There's nothing worse than feeling like you've missed out. With the seltzer category soaring, retailers will want to make sure they get in on the act, as Budweiser Brewing Group UK&I argues.
Well-established in the US, where the category garnered $4bn in sales in 20201, seltzers are making waves this side of the Atlantic. The alcoholic sparkling beverage hit £5.8m in sales last year, as retailers began to wake up to the opportunity the growing category brings2.
Demonstrating the growth potential over the coming years, this sales figure is forecast to rise to £600m by 2025, putting it on par with the ready-to-drink category3.
This growth of the seltzer category is largely owed to rising demand, particularly among millennials, for drinks products that suit a more balanced lifestyle. So how do retailers ensure they can tap into this increasingly lucrative market?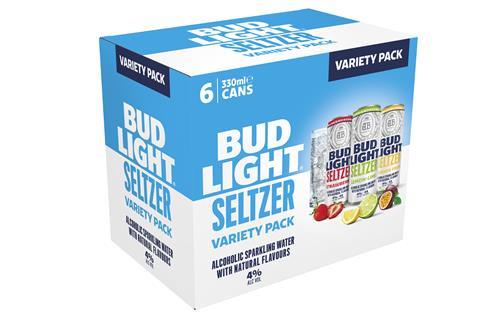 Carrying the popularity and recognition of parent brand Bud Light behind it, which has an awareness of 90% in the UK4, Bud Light Seltzer's range of flavours makes it the perfect millennial drink. Containing 95 calories per can and 4% ABV, it appeals to those looking for lighter, naturally flavoured options – and reflects the popularity of the parent brand among millennial drinkers, as the under 35s are drawn towards easy-to-drink formats5.
Seltzers also cater to increased consumer demand for sparkling alcoholic beverages, with 30% of consumers now actively choosing sparkling alcoholic drinks6. As restrictions start to lift in the UK and people can once again connect with friends outdoors, we expect to see continued popularity in the trend towards sparkling drinks, creating an opportunity for the category.
The summer of seltzer
In time for the lifting of national lockdown restrictions, Bud Light Seltzer's launch also coincides with the beginning of warmer months. It's not hard to see why a light and refreshing drink, with a range of fruity flavours, in an easy-to-drink format would be more popular among consumers in the summer – and the data backs this up.
In July and August last year, seltzers saw a 36% uplift in sales7, highlighting the strong correlation. Retailers were able to capitalise on the seasonal sales drivers, such as BBQs and picnics.
This summer also features the unique selling opportunity provided by the return of international football to our screens. Data shows how sponsor brands of sporting events tend to see an increase in sales: 55% of shoppers are more likely to opt for 'official sponsor' brands over their usual beer choices.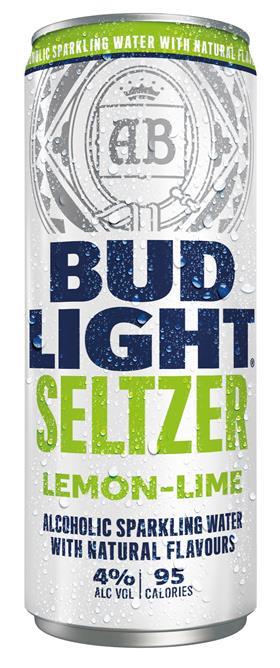 Named as the first ever official hard seltzer sponsor of the men's England football team, retailers stocking Bud Light Seltzer are set to benefit from this key brand association during the Euros.
Looking at broader consumer trends, we expect the buzz around the easing of restrictions around both indoor and outdoor socialising to translate to increased sales. The expected uplift in outdoor socialising particularly, such as picnics, garden parties, and park meet-ups will drive at-home consumption.
Last year we saw unprecedented growth in the beer category across the off-trade as consumers had to spend more time at home. Now, as people ready themselves to host or attend social gatherings at home once more, the seltzer category is well positioned to benefit.
Retailer advice
Acquainting consumers with the seltzer category by creating visibility on and away from the shelf will be key for retailers to ride this trend. To further encourage trial and repeat purchase, retailers should be sure to stock multiple flavours to ensure they meet the spectrum of consumer preference.
Promotional opportunities in store can also help to drive engagement with the category. Retailers could look to inspire shoppers to pick up a can of seltzer through cross-category picnic bundles or BBQ kits. By merchandising food and drink suited to the increasingly regular outdoor occasions ahead of summer, retailers can boost their sales.
Sources:
1 RI Total US sales
2 Nielsen Scantrack, December 2020
3 Nielsen data from, October 2019 to August 2020
4 Kantar Brand Guidance, MAT Feb 2021
5 Kantar, 52 weeks ending April 20
6 CGA Mixed Drinks, Q1 2020
7 Nielsen Scantrack, December 2020