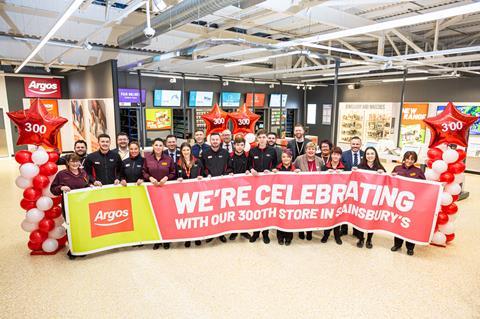 Sainsbury's has opened its 300th in-store Argos concession, which the supermarket hailed as a "milestone" in the integration of the general merchandise retailer.
The new Argos store is located inside the Sainsbury's Salford site in Greater Manchester, giving customers access to a range of more than 20,000 technology, home and toy products.
Sainsbury's has slashed hundreds of management roles across the business as it continued to integrate Argos, which it acquired for £1.4bn in 2016, more closely into the group.
The group-wide restructure includes merging store support centre teams, closing Sainsbury's and Argos stores, improving efficiency and buying products 'better' with the aim to reduce costs by £500m by 2024.
"We are very proud to be celebrating the opening of the 300th Argos store inside Sainsbury's Salford," said James Brown, commercial director for general merchandise & clothing at Sainsbury's.
"This marks an important milestone in our plan to ensure customers can easily buy everything they need from one single, multi-brand, multi-channel business and is testament to the popularity of the model and the hard work of all our colleagues."
The new in-store Argos has a 'Pay@Browse' area with tablets to enable customers to make faster purchases, as well as browse for products.
Argos has more than 1,200 standalone stores, collection points and stores inside Sainsbury's supermarkets.
At a Capital Markets Day in September 2019 – where it unveiled a new five-year plan – Sainsbury's announced plans to close up to 70 Argos stores and replace them with outlets in supermarkets.
The cost of closures so far – along with shuttering Sainsbury's stores – wiped out profits in the supermarket's first half.