Booths' 2018 festive range is focused on enjoying what many people hold dear at Christmas - indulgence, reflection, and creating happy memories with loved ones. Its overarching theme is classic staples made from locally sourced, good-quality ingredients, with a contemporary twist of vegetarian-friendly lines. Here's our preview of what the independent upmarket retailer is offering shoppers this Christmas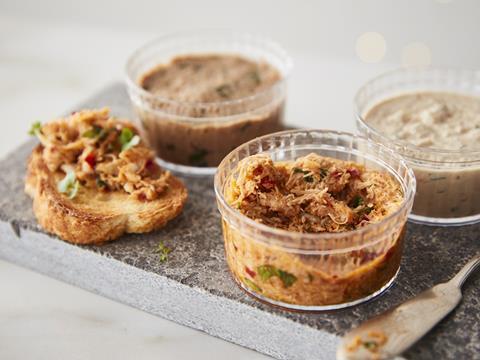 Rillette selection
Rsp: £8/three
Consisting of decadent, blended flavours, this rillettes selection - chicken & harissa, mackerel & horseradish and duck & hoisin - offers a more sophisticated alternative to pâté. The range comes from Yorkshire-based Truefoods, and boasts plenty of local ingredients. The duck is slow-cooked in duck fat, the chicken is hand-pulled, while the mackerel is traditionally smoked and bound with crème fraîche, cream cheese, fresh horseradish sauce, lemon and Granny Smith apple. The retailer says they are ideal for dinner parties or as a starter with either fresh bread or crackers.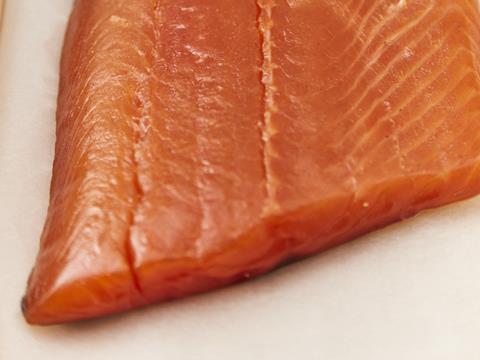 Bleiker's rope-hung smoked salmon
Rsp: £39/750g
This traditionally smoked and rope-hung smoked salmon is Booths' hero fish product for Christmas 2018. It is created by the Bleiker's smokehouse in North Yorkshire, and comes in a sleek presentation box ready to wow up to 10 guests. The salmon is said to be subtly refreshing and moreish, and is launching in September.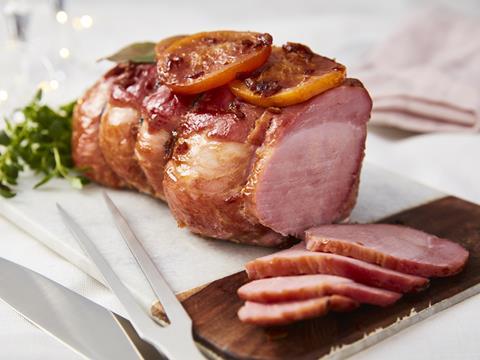 Whisky and orange-glazed British gammon joint
Rsp: £25/1.3kg
Created as a showstopping alternative to turkey, this outdoor-bred gammon joint is described as indulgent, succulent and bursting with well-balanced flavour thanks to its luxurious whisky and zesty orange sticky glaze.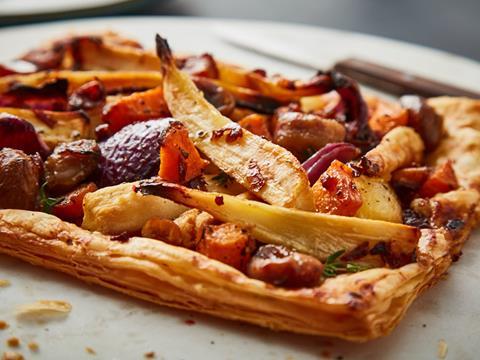 Roasted beetroot, feta cheese and pine nut / Parsnip, chestnut and butternut squash puff pastry tarts
Rsp: £7.50/400g
This duo offers something filling and flavoursome for vegetarians, flexitarians and meat eaters to enjoy together. The candied beetroot variation comes with red onion, pine nuts and soft feta cheese on top of a rich butter pastry base, while its counterpart offers a more traditional approach, with parsnip, butternut squash and red onion marmalade to boot. The tarts each serve two people and are designed as veggie-friendly mains, but could also be enjoyed as part of a party food spread.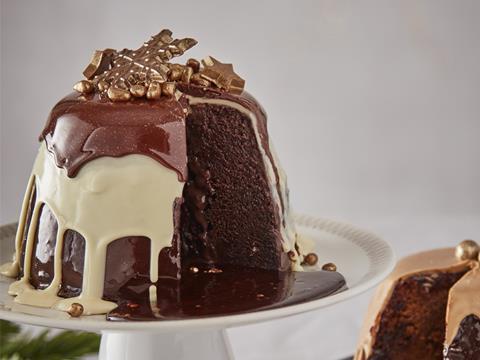 Melting middle chocolate pudding
Rsp: £8/750g
Capturing the crowd-pleasing melting dessert trend which is perfect to show off on Instagram, this melt in the middle Belgian chocolate dessert is generously drizzled with both milk and white chocolate sauce and topped with crunchy chocolate-covered honeycomb shaped into golden stars and snowflakes. As well as being an eye-catching centrepiece, Booths thinks the familair shape of this dessert will make it an ideal alternative to those looking for something other than Christmas cake or pudding as a dinner finale this year.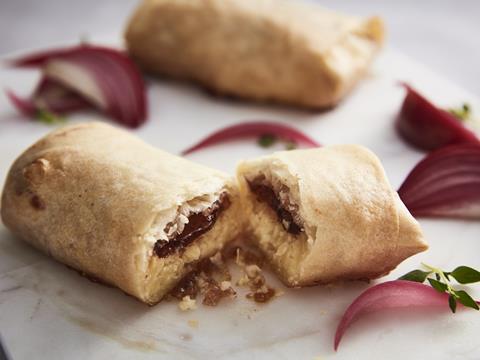 Lancashire cheese and damson jelly parcels
Rsp: £7/12
Created for a get-together, these filo pastry parcels come in packs of 12 and are hand-wrapped. Booths says this premium party food offers up a well-balanced blend of creamy traditional Lancashire cheese and oozes with damson jelly from Hawkshead Relish – an artisan preserve creator from the Lake District.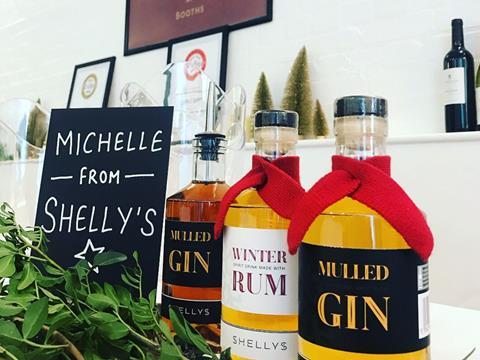 Shelly's October winter rum
Rsp: £15/50cl
Flavoured with star anise, citrus fruits and other warming spices, this drink has been created with the familiar smells of the yuletide season in mind. The smooth rum comes from independent business Shelly's Drinks and will be displayed complete with a bright red scarf around the bottle's neck when it hits Booths' shelves in September. The retailer thinks the tipple will be ideal for a gift or as an ending to a Christmas feast.
Read more Christmas 2018 range previews