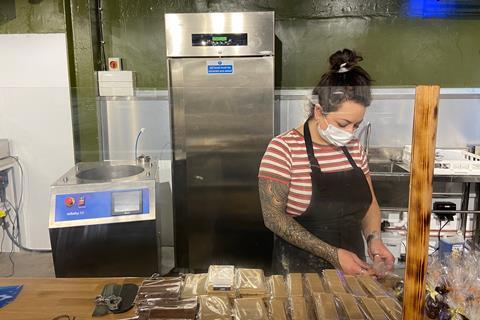 Eat17 has launched its own homemade chocolate range.
It includes plain white, milk, and dark chocolate options, as well as a milk honeycomb flavour which has already "blown away" its customers.
The range will be manufactured in its new chocolate factory in Bishops Stortford, Hertfordshire that opened last week, and will be looked after by its resident chocolatier Jade Alterman.
"We are super excited about launching our own chocolate," said James Brundle, co-founder of Eat17. "As retailers ourselves we always want to bring out something we feel is missing in the market.
"While there are lots of amazing artisan chocolate producers out there we wanted to do something different. We are going to bring out flavours nobody else is doing.
"It was essential for us that we do thick bars to let the flavours really come through. Jade is amazing, with loads of experience and very creative so we are looking to really rock the boat with our range."
Brundle said they are only selling the range in their own stores so far, but he's keen to start wholesaling the product to other independents across the UK within the next few months.
"Our goal is to sell amazing chocolate at a reasonable price and offer customers something different – the same principles we carry in the rest of our business," he added.
Other flavours include: Neapolitan White Chocolate, Lotus White Chocolate, Dark Hazelnut Caramel Choc, Salted Caramel Milk Choc, Milk Banoffee Choc, and Milk Peanut Butter Choc using Jackpot Peanut Butter.
There is currently a limited range of the chocolate in all of its stores but it aims to have the full range in by the end of next week, selling at £2 for a small bar, and £4-£4.50 for a large bar.