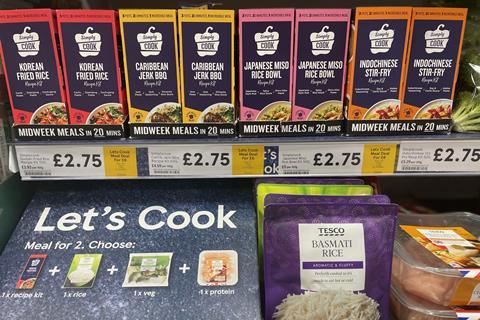 Tesco has teamed up with recipe box service SimplyCook to launch an in-store meal kit offer.
From tomorrow (7 April), 1,300 of the retailer's Express stores will feature a 'Let's Cook' one-stop chiller bay, inviting shoppers to create a meal for two for £6.
They will select a protein including chicken and a plant-based option, a veg and a carb such as rice to combine with the SimplyCook ingredients kit of their choice.
Each kit comprises three pots containing herbs, spices, stock or marinade. Variants are Japanese Miso Rice Bowl, Indochinese Stir Fry, Korean Fried Rice and Caribbean Jerk BBQ.
The launch marks SimplyCook's expansion beyond ambient food. It would provide shoppers with a taste of "the restaurant-inspired meals they are missing in lockdown, using fresh and healthy ingredients" said the brand, which is one of the Tesco Incubator programme's current raft of participants.
The scheme had been "a fantastic platform for this exciting collaboration between SimplyCook and Tesco" said SimplyCook Retail co-founder and MD Sam Tierney. "The 'Let's Cook' proposition is a game-changing new play on in-store meal kits, and we have an aligned mission to bring new meal solutions to store."
Tesco was "really excited about the launch of the SimplyCook recipe kits within the 'Let's Cook' proposition, helping our shoppers find and cook easy yet new and exciting recipes from scratch in just 20 minutes" said Farzana Miah, brand manager at the grocery giant.
The partnership comes after Nestlé announced in February its acquisition of the fast-growing SimplyCook for an undisclosed sum – with Nestlé CEO Stefano Agostini hailing the deal as "an ideal partnership" for both businesses.
Launched in 2014, the London-based SimplyCook offers more than 130 recipes using its ambient ingredients, which are delivered to subscribers in a recyclable, letterbox-sized box. The brand's ambient lines are also listed by Tesco, Asda, Co-op and Waitrose