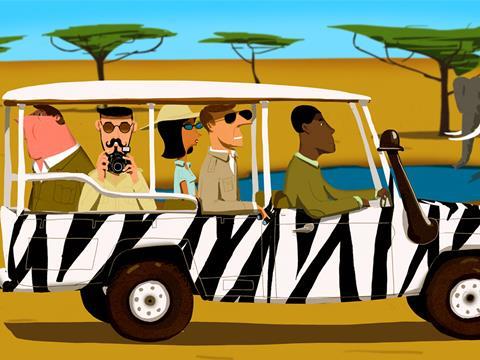 This year, we've had everything from smoked salmon glitter crisps (thanks, M&S) to pink peppercorn tortilla chips. It's all helping to inject some excitement into crisps, which have long been ruled by three flavours: ready salted, cheese & onion and salt & vinegar. Yet social media reaction to these wacky new flavours has been divided. The Co-op's prosecco crisps were branded proof that "middle class people have gone too far"; the M&S offerings were slammed as "pretentious". So do adventurous flavours really have the potential to win over new shoppers? Or are they simply an answer to a question nobody asked?
It seems there is indeed genuine demand for exciting additions to the snack aisle. A fifth of consumers often try new snacks, found a poll of 1,185 consumers commissioned by The Grocer. And when they do go for something new, most are willing to go beyond the standard ready salted or cheese & onion. An impressive 39% of Brits will regularly or always experiment with new and exciting flavours, found the poll by Harris Interactive. That figure rises to 60% of 25 to 34-year-olds.
And so brands have rushed to grab the attention of the adventurous young consumer. Tortilla chip brand Manomasa started out pretty wild, with flavours green lemon & pink peppercorn and Serrano chilli & Yucatan honey. But now it's going even further in its innovation. "We've gone from having three flavours to eight, which will become 10 in summer when our new flavours beef barbacoa & dill pickle and chargrilled pineapple & arbol join the range," says senior brand manager Joanna Murray.
Walkers Sensations is also pushing boundaries, with the launch of lime & coriander chutney poppadoms and a wasabi & ginger flavoured crisp last year.
Watch: Brits are on the hunt for exotic new snacks
These brands are very much focused on world flavours. But inspiration doesn't necessarily have to come from far-flung climes. Tayto Crisps is running a flavour competition in Ireland asking customers to vote for its next limited edition packet. Options include Spice Bag, Sunday Roast, Breakfast Roll and Curry Sauce, with the winner due to be announced and added to the range later this year.
Kettle Chips is going with a mix of home-grown and exotic flavours in its new Discoveries range, which includes Salted Caramel & Double Cream; New York Deli with Pastrami, Dill Pickle & Mustard; Gressingham Duck, Plum Sauce & Spring Onion, and Yorkshire Wensleydale Cheese & Cox Apple Chutney.
How where and who?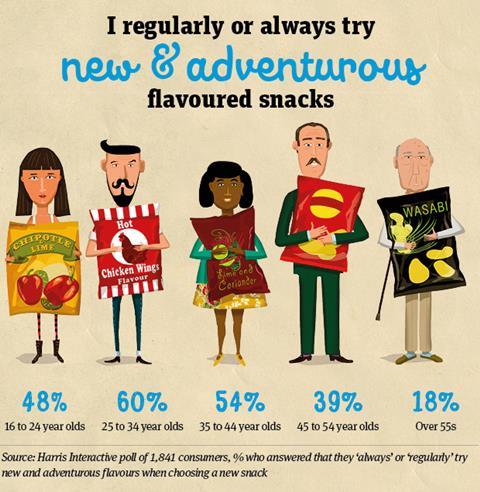 Consumers would have baulked at such adventurous ideas 10 years ago, says Debbie King, director of sales and marketing at healthy snack brand Eat Real (whose range includes jalapeno & cheddar quinoa and kale puffs). But the rise of the millennial shopper has shaken up the category, she says. "The increasingly sophisticated palates of this age group, driven by international travel and food from around the world, mean once unfamiliar or exotic flavours are now widely accepted."
There is definitely a market for the well-travelled young consumer. Yet that doesn't mean all flavours are going down so well. Asked which flavours they would try out of the following new launches – hot chicken wings, lime & coriander, chipotle & lime, wasabi & ginger and manchego & green olive – consumers had a clear preference in the Harris Interactive poll. An encouraging 49% would try the hot chicken wings flavour, while only 24% would try manchego & green olive. Considering flavour is such a large driver of trial of NPD – 21% said 'appealing' flavours were the most important factor, second only to the 28% who were swayed by a free sample – it's important to get it right.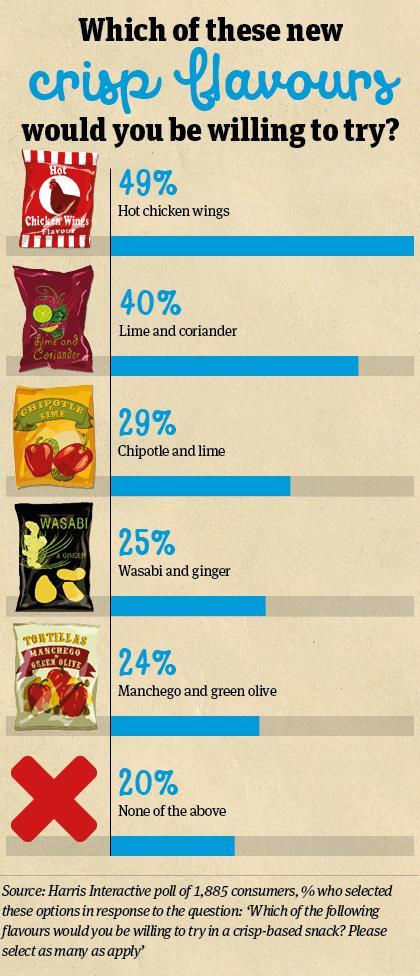 It is perhaps telling that hot chicken wings was the most popular choice. Because hot and spicy seems be the flavour of the moment. Much of the NPD in the market is upping the spice stakes. KP Snacks introduced Hula Hoops Puft Sweet Chilli in January this year, and is set to launch Big Hoops Spicy Chilli in March. "We're finding that consumers are more tuned into spicy flavours than ever before," says Vijay Bhardwaj, head of marketing formats at KP Snacks. "The spicy sector is one of the biggest single segments, worth around 10% of the snacks market at £260m RSV. It's not a niche flavour any more, it's a mass phenomenon and it's growing fast at 6.7% year on year."
Having found a winning formula, KP is going the same way with McCoy's. "We launched McCoy's Paprika in January, which we're confident will do well," says Bhardwaj. "A decade ago nobody had even heard of paprika. It really shows how fast the market is moving; hard-hitting, strong tastes from around the world are driving new flavour territories in snacks."
Other brands are also getting in on the spice-loving crowd. Doritos sought to heat up the market in January 2017 with its dual flavoured tortilla chips, supported through a string of TV and digital advertising the following month. Rolled out initially as a UK exclusive, each tortilla chip in the two-strong range contains mini chilli capsules, which serve up a hit of spice after the initial BBQ or Chipotle Cream flavour.
The brand upped its presence in the heat sector even further in July last year with the relaunch of Doritos Roulette, teaming up with Tabasco Sauce to give the hidden spicy chips in the pack an extra kick.
Competition in spicy snacks got even more heated in January when Pipers Crisps added Jalapeno & Dill flavour to its range, which the brand states will "satisfy the desire for innovative flavours, particularly relevant for 18 to 34-year-olds, the most significant snack-buying segment".
The new flavour was created to complement a cold beer and lime, says marketing manager Katy Hamblin, who found an emerging demand among snackers for products that can be paired with drinks. "We also launched our Wild Thyme & Rosemary flavour back in September 2016, which was designed to be a perfect match for today's gins."
Walkers was next to jump on the alcohol accompaniment trend with Max Strong, a new range of spicy crisp flavours 'carefully crafted to complement different types of popular beer'. Comprising Chilli & Lime, Hot Chicken Wings, and Jalapeno & Cheese, the line was introduced mid-January with a TV ad campaign portraying the packets as magnets for beer.
While accompaniments with alcohol seem to be all the rage, crisps that are flavoured with alcohol seem to be more of a hit-and-miss venture. The Co-op's Prosecco Bubble crisps and the trio of M&S alcohol-inspired flavours – Smoked Salmon, Cream Cheese & Champagne glitter crisps, Bloody Mary & Fizz and Sparkle Winter Berries & Prosecco – provoked their fair share of controversy on social media.
The same goes for sweet flavours on crisps. Tesco pushed the boundaries with the launch of limited edition Candy Cane crisps into its Finest range in October, designed to "tap into the trend of combining sweet and savoury flavours". Yet it didn't seem to achieve the same mass appeal as classic sweet-and-savoury combo salted caramel (or its other adventurous flavours such as Massaman Curry Crinkle Cut Crisps and Pulled Pork). Opinion was most definitely split on Twitter as some users said they were "intrigued" but other users found them too "bizarre".

So are these combinations just too out there even for the new adventurous breed of consumer?
"My overall feeling is these are novelty products, earning their place in a seasonal assortment but doomed to be on discount to clear stocks after the event has passed," says Hamish Renton, managing director of food and drink consultancy HRA Global. "Take for example the prosecco crisps. Visually they were interesting with the golden flecking on the surface of the snack and the packaging was congruent with the offer. However, they are challenging due to the sour notes in the prosecco and they trade at a high price point without delivering a knock-out eat. Overall I feel that the prosecco crisps prove the dictum that just because you can doesn't mean you should – it all feel a little 'spray and pray' NPD. For me, the obvious point is that a great combination is a glass of prosecco and a quality savoury crisp which sets up a flavour and texture contrast. Combining the two into a crisp doesn't really take us forward.

Whilst there is clearly a market for snacks in new and adventurous flavours, the appeal of flavour is key, concurs Lucia Juliano, head of research at Harris Interactive. "Brands should be wary not to go too far with their flavours as consumers could be put off. Even if shoppers do buy into these new unusual products, unless brands can get the flavour right there is a high chance that it will stay as a one-off purchase."
The lesson seems to be this: if you want your new snack flavour to be a sure-fire hit, make sure you pack in the spice. The world may not yet be ready for a candy cane crisp.
With so many new and innovative flavours and formats launching in the category, the emerging problem for brands and retailers is standing out from competitors. In a year that saw tortilla chips shaped to scoop dip, candy cane crisps and rising levels of heat in snacks, creating something unique and different is becoming increasingly difficult.
We posed this dilemma to design consultancy Path, challenging them to come up with a brand new product for the ever-diversifying snack market. Here's what they came up with.
Creative challenge: Bloom Bars
Introducing Bloom bars, a new range of plant-based, Instagrammable snack bars from Path. "We took a look at the healthy snack sector and found a lot of emphasis is put on packaging," says strategy director Ben Sillence. "The actual products don't tend to look very exciting. We wanted to upend that by creating a snack bar that looks great and provides a unique flavour combination, targeting consumers who want to taste something new – but not before posting a picture on social media."
Each Bloom bar is made up entirely of fruit or 'superfood' vegetables, with a spirulina, coconut and goji berries Green Goodness flavour and Sweet Dream, containing sweet potato, turmeric, lucuma and beetroot. "We selected the flavour combinations based on their health benefits as well as what's trending at the moment on social media," explains Sillence, "Whilst the mix of these flavours is something consumers won't have tried before, they'll be familiar with the ingredients."
Though the snack aisle is constantly introducing new and exciting flavours, the category hasn't done much to capture the growing number of 'food porn' consumers, says creative director Chris Forecast. "Bloom's design is an important USP. Ultimately as a healthy replacement for a countline bar, the product had to be consumable on the go, but we wanted to make it more dynamic than the standard rectangle, so we developed a geometric element to make it more visually exciting."
The bar also snaps into six different pieces, making it easy to share as well as allowing consumers to break the product down and create their own snaps for social media. "With a higher-end rsp of between £2 and £3, the bars are aimed at shoppers who are willing to pay a bit extra for a premium healthy snack that provides a new taste experience as well as the perfect Instagram snap."
Stocked in the fresh chilled aisle, Bloom bars would be launched first in smaller outlets including Whole Foods Market, says Forecast, before being introduced in major retailers. Marketing would focus heavily on social media, with adverts, campaigns and competitions encouraging consumers to post pictures of their Bloom bars.
While Bloom bars may not hit stores for a while yet, here are some innovations that will soon be available in your supermarket aisle.
Innovations in snacking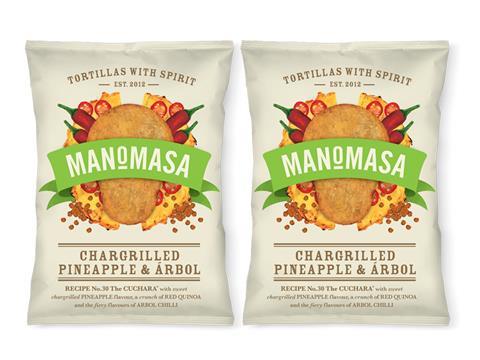 Manomasa Chargrilled Pineapple & Arbol and Beef Barbacoa & Dill Pickle Tortilla Chips
Launching: May 2018
Manufacturer: Manomasa
The Grocer can exclusively reveal tortilla chip brand Manomasa's newest flavours: Chargrilled Pineapple & Arbol and Beef Barbacoa & Dill Pickle (rsp: £2/160g). Ideal for scooping dip, the Chargrilled Pineapple and Arbol chips are 'cuchara' (Spanish for spoon) shaped, whilst Beef Barbacoa and Dill Pickle are square.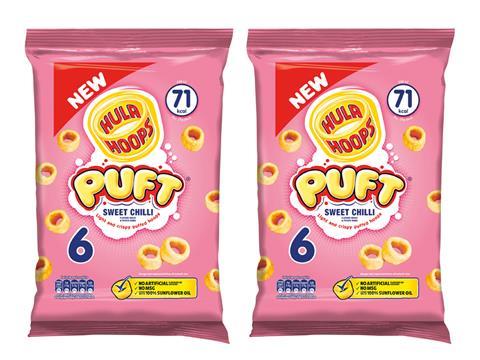 Hula Hoops Puft Sweet Chilli
Launched: January 2018
Manufacturer: KP Snacks
KP Snack's latest addition to its Hula Hoops lineup contains 71 calories per bag, and taps the growing chilli trend in the snacks market. Spicy is now the second-most popular flavour in the healthy multipacks sector and the fastest-growing, up 14% year on year. Hula Hoops Puft Sweet Chilli multipacks (rsp: £1.60/6x15g) are currently available in Asda, with more listings to be announced throughout the year.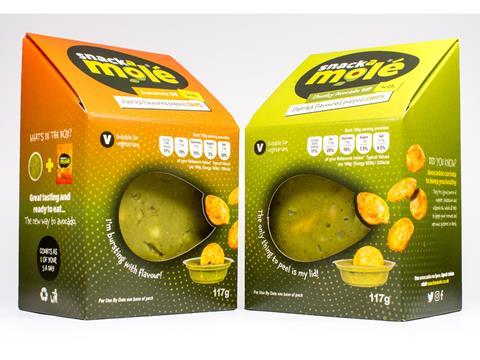 Snackamolé
Launched: January 2018
Manufacturer: Born Tasty
Can anything stop the meteoric rise of avocado? Born Tasty doesn't seem to think so, launching Snackamolé (rsp: £2.50/117g) in January, a 100g Pure Avocado or Guacamole dip with low fat, high fibre chickpea pop chips. Both dips contain one of the consumer's 5 a day, and use high-pressure processing methods to eliminate micro-organisms and enzymes that cause avocado flesh to brown, enabling them to retain flavour and nutrients.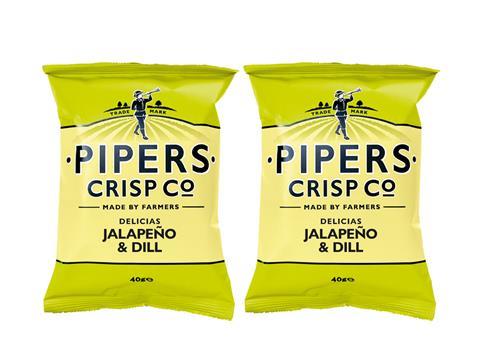 Jalapeno & Dill crisps
Launched: January 2018
Manufacturer: Pipers Crisp Co
Current snacking trends towards heat and globally influenced flavours haven't gone unnoticed at Pipers Crisps, which has responded with its new launch Jalapeno & Dill, available in 40g and 150g sharing bags, priced at £1 and £2.20 respectively. Designed to accompany a beer, the brand hopes the flavour will be a hit in bars and pubs as well as retailers.
Thanks to our partners

Harris Interactive , a full-service digital consultative custom market research agency, polled more than 2,000 consumers for The Grocer for this article.

With its 30,000-strong consumer panel, Kantar Worldpanel, is a leading consumer and shopper insights provider. Kantar provided sales and usage data and analysis for this article.