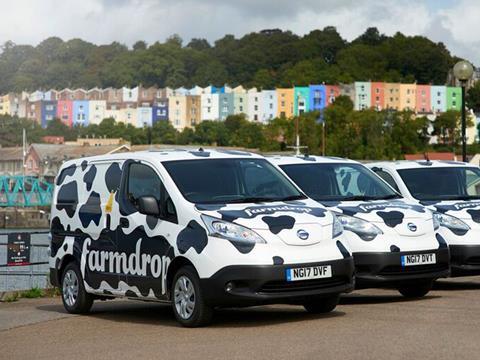 Staff at failed online grocer Farmdrop are considering taking legal action against the company amid allegations it failed to properly consult employees during the redundancy process.
The business, founded by former City broker Ben Pugh in 2012, ceased trading last week after failing to secure new funding.
Customers were informed by the company that all Christmas orders scheduled for after 16 December had been scrapped.
Farmdrop filed a notice of intention to appoint administrators at the High Court, with hundreds of staff made redundant.
Following the news, law firm Simpson Millar has been contacted by several former workers who claimed they were not consulted over the job losses.
The firm said its specialist employment team had begun investigations and was looking to secure a 'protective award' for those affected.
A protective award can follow an employment tribunal in cases where an employer fails to follow the correct procedure when making 20 or more redundancies. If the tribunal rules in favour of the employees, they are able to access funds of up to £4,352 via the government's Insolvency Service.
"It is incredibly sad to read of the collapse of Farmdrop, with many customers now being left without orders and leaving many employees without work and no time for preparation over the Christmas period," said Simpson Millar employment law expert Anita North.
She said even though Farmdrop had gone into administration, it still had to follow the correct employment procedures and had a duty of care to staff under current employment law legislation.
"Regardless of whether a company is struggling financially, they still have a duty under current employment law legislation to carry out a proper consultation with staff at risk of redundancies," North said. "Where that does not happen, employees can bring a claim for a protective award."
Farmdrop had been lossmaking throughout its history, with losses totalling more than £30m in just the past four years.
In the year ended 30 June 2020, losses totalled £10m despite a surge in demand for its service during the pandemic, with revenues more than doubling to £12m, according to the latest available accounts at Companies House.
In the accounts, Farmdrop's auditor UHY Hacker Young warned of a "material uncertainty" over its future and said the business needed significant funding to continue trading as a going concern.
Since launching, Farmdrop has raised more than £30m across a number of funding rounds, including a £750,000 raise on crowdfunding platform Crowdcube. It was also backed by Skype founder Niklas Zennström's venture capital firm Atomico, Wheatsheaf Group, Impact Ventures UK, Zoopla founder Alex Chesterman and Asos co-founder Quentin Griffiths.
The business aimed to give more money to its supply base and positioned itself as an ethical alternative to supermarkets by promoting farm-to-table food sourced from local farmers, fishermen and other producers.
However, a number of suppliers have taken to LinkedIn and Instagram to complain of delays to invoice payments and large sums of money owed by the company.
The latest accounts showed the company employed almost 200 staff, including at distribution hubs in Bristol and Enfield.