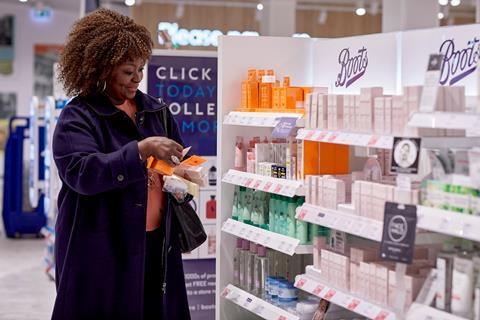 Boots has continued its post-pandemic recovery as sales growth accelerated and a transformation programme progressed in the third quarter, owner Walgreens Boots Alliance (WBA) revealed today.
It follows the US pharmacy giant pulling the plug on attempts to sell the UK chain earlier this week as potential buyers failed to adequately recognise the "high potential value" of Boots.
Rising customer numbers returning to stores helped Boots make market share gains across all categories, led by its beauty offering, in the three months ended 31 May.
Like-for-like retail sales increased 24% in the period as a result, marking further improvement on the 16.3% growth in the first quarter and 22% in Q2 as it bounced back from large declines suffered while Covid restrictions remained in place.
Footfall jumped 45% year-on-year, with the business highlighting particular improvements at its flagship and travel locations, but traffic still remained below pre-Covid levels given the majority of the 2,250-strong estate of Boots stores are located on the high street and in town centres.
Basket sizes in Q3 were up about 14% on pre-Covid levels and online also registered a "strong" performance – accounting for more than 13% of total retail sales, more than double the contribution before the pandemic.
UK MD Sebastian James said significant investment in the digital platforms and in stores was expected to drive "continued market-leading growth".
"The execution of our transformation programme, and a sharp focus on expanding our key categories of healthcare and beauty, has driven strong sales and market share growth and further strengthened our position as the UK's leading health and beauty retailer," he added.
James said the launch of a 'Price Advantage' scheme, the expansion of its own label range and a price freeze on 1,500 essential products had been "particularly well received" by customers.
Pharmacy sales slipped 0.4 year-on-year in the quarter as it came up against tough comparatives, but pharmacy services rose 22% despite lower Covid-19 testing and vaccinations reflecting stronger demand for new online healthcare services such as Boots Online Doctor.
WBA highlighted the "strong performance and growth" of Boots as vindication for its decision to abandon the auction of the chain.
The group blamed the "unexpected and dramatic change" in global financial markets for the collapse of the process that kicked off late last year.
CEO Rosalind Brewer said: "We have now completed a thorough review of Boots and No7 Beauty Company, with the outcome reflecting rapidly evolving and challenging financial market conditions beyond our control.
"It is an exciting time for these businesses, which are uniquely positioned to continue to capture future opportunities presented by the growing healthcare and beauty markets.
"The board and I remain confident that Boots and No7 Beauty Company hold strong fundamental value, and longer term, we will stay open to all opportunities to maximize shareholder value for these businesses and across our company."
Revenues at WBA in the third quarter fell 4.2% to $32.6bn as it lapped "very robust growth" last year.
International sales increased 0.3% to $5.3bn, including an adverse currency impact of 9%, while on a constant currency basis, sales were up 9.3%, with Boots UK sales up 13.5% and the German wholesale business growing 6.8%.