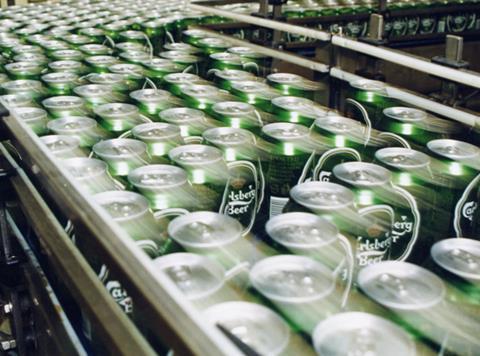 Carlsberg issued a profit warning this morning after a weak European market saw reported profits fall 12% to DKK 3.58bn (£338.4m) for the first half of 2015.
The brewer's beer volumes sold in Eastern Europe tumbled 18%, which resulted in a 5% fall worldwide, despite growth in Asia. As a result, group revenues for the six months to June were flat at DKK 32.4bn (£3.1bn).
Carlsberg said it now expects organic operating profits to decline slightly – it previously forecast mid- to high-single-digit growth. It added the translation impact on operating profits was expected to be around DKK -300m (previously DKK -400m).
CEO Cees 't Hart, who took over the reins in June, said: "The first half of 2015 has been challenging for the group with weaker than expected results in Western Europe and market decline in Eastern Europe.
"In Western Europe, we experienced bad weather in Q2 in Northern Europe and did not achieve the full range of anticipated savings. For the full year, we therefore do not expect that the strong Asian performance will be enough to offset the weaker than expected results in Western Europe and the challenging market conditions in Eastern Europe.
"Needless to say, we have a heightened sense of urgency to execute the efficiency improvement initiatives we started at the beginning of the year."
Despite the group's mixed overall performance, there was positive news for international premium brands Tuborg, Somersby and Grimbergen, with sales up 16%, 26% and 19% respectively.
The brewer's best performing brand in the UK is San Miguel, which is up 3.5% to £91.1m [Nielsen 52 w/e 25 April 2015] – in line with the premium lager segment, which is seeing strong growth. Sales of the Carlsberg, brand, however, are down 4.8% to £348.1m on volumes down 0.6%.