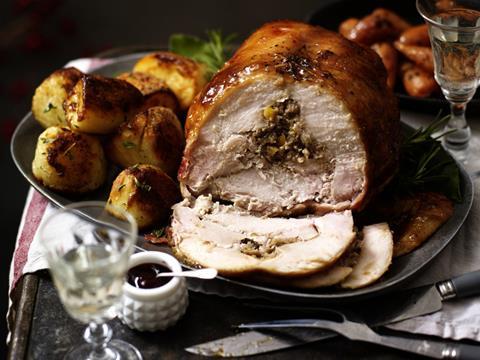 A late rush to the aisles before Christmas looks to have saved the festive period for the beleaguered grocery sector.

Waitrose reported a 1.4% dip in like-for-like sales (excl petrol) for the six weeks to 2 January, but a slightly downbeat performance was saved from disaster by record trading on 23 and 24 December, with sales up 6.0% and 5.5% respectively.

Waitrose MD Mark Price commented: "Although it came very late, with a concentration of trade in the three days before 25 December, we had a profitable Christmas with good margins and our costs well controlled."

M&S's food performance was stronger - in the 13 weeks to 26 December food sales were up 3.7%, and 0.4% on a like-for-like basis. But M&S also saw a late flurry of sales, recording 17% growth in the key Christmas week. M&S' bumper Christmas week sales meant the grocery division delivered its best ever Christmas and "strongly outperformed the market" according to outgoing CEO Marc Bolland.

The Co-op's food business, which will only reveal sales figures in its annual report, also said Christmas Eve was its busiest trading day, with almost 3.5 million transactions "as customers bought last minute, convenient essentials".

The big four are yet to report their festive trading figures, but Shore Capital analyst Clive Black expects this concentration "will be mirrored by the rest of the grocers", adding that Sainsbury's like-for-like performance could improve on that of Waitrose.

The apparent flurry of late Christmas grocery sales will be a welcome boost to an industry beleaguered by food price deflation running at over -2%, according to The Grocer Price Index, through the second half of 2015.

BRC-Springboard data suggested high street footfall had declined for much of the Christmas period, hitting high street retailers and that seems to have had an effect on non-food retailers (with Next and M&S's general merchandise seeing big like-for-like festive declines) as well as those reliant on passing trade.

As such, Poundland sales in its core estate also disappointed in the 13 weeks to 27 December. Although sales grew 9% three percentage points of growth came from converted 99p Stores. This 6% core growth was well below consensus expectations of around 8% and represents a like-for-like sales slump of between 4%-5%.

But another recently under-fire retailer had more reasons to celebrate. Majestic Wine grew total sales 42.6% in the 10 weeks to 4 January. It didn't split out Christmas week sales, but Majestic's retail arm saw like-for-like sales growth of 7.4% (against a 1.7% decline last year) since improving its in-store and online offer following the merger with Naked Wines.