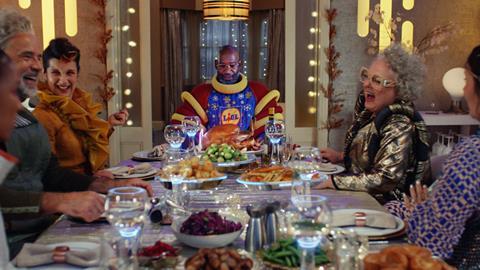 Top story
Lidl GB posted annual sales growth of 2.6% over the Christmas period, claiming its festive performance places it as the country's fastest growing bricks and mortar retailer for the second year running.
The discounter also achieved record footfall levels in the week leading up to Christmas, with footfall up 14% annually on its busiest day of 23 December, whilst customers switched £21m of spend to Lidl GB across December.
The chain's sales growth on a two-year basis was 21%.
Christian Härtnagel, Lidl GB CEO said: "Despite ongoing challenges with the pandemic, customers continued to find ways to celebrate this Christmas. Our high quality, low priced festive ranges proved a hit, helping us achieve a record Christmas with footfall and sales beating the previous two years.
"As ever, none of what we do would be possible without the hard work of our colleagues across the country and our suppliers. I cannot thank them enough for their efforts during this period as we continued to navigate the industry challenges to provide for our customers, ensuring all stores were well stocked.
"As inflation continues to rise, I want to reassure each and every one of our customers that we remain resolute in our promise of being the destination for the lowest grocery prices in the market."
Lidl said that lamb proved a popular alternative to turkey this Christmas, with sales up 21% and up 65.4% on a 2-year basis. The classic Christmas Pudding was up 23% YoY, and sparkling wine was up 24%.
Lidl Christmas jumpers were the fastest selling product in the Middle of Lidl aisle during the festive period, with approximately one jumper sold every two seconds on its first day of sale. Customers bought over 8 million Christmas cards and a million rolls of wrapping paper, whilst the Lidl gift of choice was the retailer's scented candles with over half a million sold.
In December Lidl opened eight new stores across the country, and its store expansion plans also continue at pace with a number sites opening in January, including in London and Liverpool.
Morning update
UK supermarket sales exceeded expectations, according to latest data from NielsenIQ, as Brits spend £7.1bn in the two weeks leading to Christmas.
Weekly sales growth at UK supermarkets peaked at +14.8% in the week ending 25th December 2021 as consumers opted for last minute in-store purchases ahead of the festive period
This figure exceeds previous forecasts from analysts at NielsenIQ, in which sales were predicted to grow to £6.8bn, up from £6.7bn in 2020.
Nielsen found that total till grocery sales across the four weeks ending 1st January 2022 grew by 1%. against strong comparatives in 2020, where sales had accelerated 8% in anticipation of a full lockdown from 4th January 2021.
Online shopping visits fell 1.7% over the four week period whilst in-store visits jumped to 6.3%, reflecting the changing shopping behaviours of UK consumers who are continuing to embrace an omnichannel shopping mindset.
There were 27m more in-store visits during this four week period compared to 2020, leading to the online share of grocery sales falling to 11.3%, compared to 12.1% in December 2020. This is the lowest online share since the 11.6% of April 2020 following the start of the pandemic.
With weaker comparatives M&S (+9.4%) was the fastest growing food retailer over the 12 week period, whilst Lidl (+8.5%) and Aldi (+4.8%) both benefited from an accelerated new store opening programme. Tesco (-0.1%) and Waitrose (-0.2%) also gained market share.
Asda fell 3.1%, Sainsbury's by 4.2% and Morrisons by 5.6% in the period.
Overall NielsenIQ data shows that Brits spent £14bn on Christmas categories at UK supermarkets, an increase of 8.7% compared with pre-pandemic levels in 2019.
Sales of fresh oriental ready meals grew by 20%, whilst sales of vegetarian burgers were up 19% as shoppers sought alternatives to traditional festive food. As Brits were able to get-together over the Christmas period and entertain with friends and family, there was also a surge in snacking and party food, with chilled baguettes (+18%), fresh trifle (+8%) and fresh sausage rolls (+7%) increasing in sales in the four week period ending 1st January 2022.
Mike Watkins, NielsenIQ's UK Head of Retailer and Business Insight, said: "It was a good Christmas for food retailers with overall performance in line with expectations in the last three months, and against some very tough comparatives last December and in a very competitive retail environment.
"Shoppers were willing to buy the extra Christmas indulgences and temporarily put aside their concerns about the rising cost of living. Looking ahead, consumers are facing significantly higher energy, travel and other household costs so it's likely that shoppers will look to make savings on their weekly food shop by managing budgets.
"We may see them buying what they need when they need it, wasting less fresh food, and steering clear of unnecessary cupboard stocking. This would give added momentum to the return of the 'little and more often' macro trend we are anticipating as we hopefully leave behind the pandemic shopping behaviour in the new year."
Meanwhile, the BRC-KPMG Retail Sales Monitor for December, found total retail sales increased by 2.1% over the month against a growth of 1.8% in December 2020.
This is above the 3-month average growth of 2.8% and the 12-month average growth of 9.9%.
On a two-year basis, Total retail sales grew 4.6% during December compared with the same month in 2019.
UK retail sales increased 0.6% on a Like-for-like basis from December 2020, when they had increased 4.8%.
Over the three months to December, Food sales increased 0.4% on a Total basis and 0.1% on a Like-for-like basis. This is below the 12-month Total average growth of 3.1%. For the single month of December, Food was in growth year-on-year.

Non-Food retail sales 4.8% on a Total basis and increased by 1.4% on a like-for-like basis over the three month period, while in-store sales of Non-Food increased 36% on a Total basis and 26.8% on a like-for-like basis.
Online Non-Food sales decreased by 13.9% during December, compared to December 2020 when the UK was in lockdown for large parts of the month. However, on a two-year comparison, online non-food sales increased by 24.4% in December.
For 2021 overall, total sales increased 9.9% compared with 2020. Food growth was 3.1% and the non-food growth was 15.6% for the year.
BRC chief executive Helen Dickinson commented: "Despite the recent Omicron outbreak, retail sales held up through December. Many people chose to shop online rather than travel to nearby high streets and shopping centres.
"Retailers did well to weather the challenging trade conditions, with retail sales for 2021 up on both the previous year and compared to pre-pandemic levels. Continuing a trend throughout the pandemic towards online shopping, 2021 saw a double digit rise in non-food online sales, a testament to retailers' huge investments in their online platforms.
"However, retail faces significant head winds in 2022, as consumer spending is held back by rising inflation, increasing energy bills, and April's National Insurance hike. It will take continued agility and resilience if they are to battle the storm ahead, while also tackling issues from labour shortages to rising transport and logistics costs."
Susan Barratt CEO of IGD said on the food & drink sector performance: "Food and drinks sales delivered a strong performance in December 2021 and were back in year-on-year growth. This is particularly impressive considering the exceptionally strong sales recorded in December 2020 and indicates that many shoppers took advantage of being able to celebrate Christmas this year with family and friends.
"As most people were able to celebrate with family and friends once again, shopper confidence increased significantly around the festive break. Looking ahead and amid inflation reaching a 10-year high in December, the rising cost of living looks set to shape shopper sentiment in 2022 and our ShopperVista data shows that 86% of shoppers expect food to get more expensive in the year ahead, the highest level since January 2016."
Elsewhere, Delivery Hero has announced that its food delivery business (including its new investment in Glovo) is expected to break even during in the second half of 2022. It expects to generate between EUR0 and 100m in adjusted EBITDA in the fourth quarter 2022, while investments related to its quick commerce business are predicted to peak in the first quarter of 2022 and gradually decline thereafter. It also reconfirmed its long-term adjusted EBITDA/GMV margin target of 5-8%.
Emmanuel Thomassin, CFO of Delivery Hero, said: "Delivery Hero has always been investing into growth with the clear ambition of reaching the scale needed to achieve profitability.
"We have remained confident that through achieving the right size, we are able to bring tremendous benefits to all partners in our ecosystem, as well as to our shareholders. The investment strategy has proved to be successful, and we are on a solid trajectory to turn our food delivery business profitable during the second half of this year."
On the markets this morning, the FTSE 100 is back up 0.3% to 7,470.2pts.
Early risers include THG, up 2.8% to 184.5p, McColl's Retail Group, up 2.6% to 11.7p and Just Eat Takeaway.com, up 2.5% to 3,618.5p.
Fallers include Reckitt Benckiser, down 1.5% to 6,228p, Diageo, down 1.1% to 3,807p and Greencore, down 1% to 133.3p.
Yesterday in the City
The FTSE 100 started the week by falling back 0.5% to 7,445.3pts.
Fallers yesterday included THG, which fell 7.7% to 179.5p after handing over information to regulators claiming it represents a coordinated attack on its share price.
Other fallers included Deliveroo, down 6.2% to 185p, Greggs, down 5.8% to 2,884p, Just Eat Takeaway.com, down 4.7% to 3,530p, Naked Wines, down 3.8% to 565p, Devro, down 3.1% to 197.6p, Pets at Home, down 2.1% to 445.2p and Domino's Pizza Group, down 1.7% to 423.2p.
The day's risers included Nichols, up 3.1% to 1,505p, Coca-Cola HBC, up 2.2% to 2,671p, C&C Group, up 2.2% to 235.2p, Tate & Lyle, up 2.1% to 695.3p, British American Tobacco, up 1.7% to 2,869p, Kerry Group, up 1.7% to 115.4p and FeverTree, up 1.5% to 2,599p.