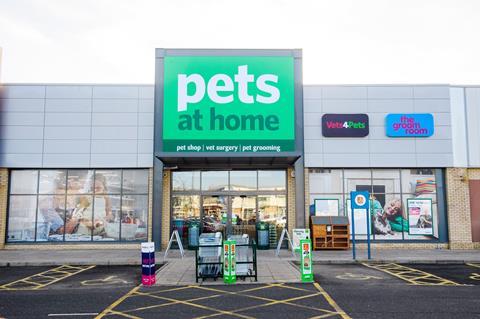 Top story
Profits at Pets at Home Group are set to be higher than expected as consumers flocked to its shops and veterinary operations over the summer.
The petcare retailer said in a first-half trading update this morning that momentum from the first quarter had continued across all areas of the business.
Shopping habits among customers had started to normalise in May and the group reinstated services and permitted procedures in its retail and veterinary operations.
Sales in the eight weeks to 10 September registered double-digit like-for-like growth, Pets at Home added in the update.
"This is testament to several factors, not least the inherent resilience in our pet care model and the underlying pet care market," the group said.
"We continue to benefit from the adaptability of our operations to changes in customer behaviour and preferences, our continuing investment in omnichannel capacity and customer acquisition channels, and the clear advantages of our unique owner-managed First Opinion veterinary model."
Despite the uncertainty created by the Covid-19 crisis, including the risk of a second lockdown, Pets at Home added that based on the "sustained strength in performance" during the first half underlying full-year pre-tax profits would be ahead of current market expectations.
"Our balance sheet and liquidity remain strong," the retailer said.
Shares in the group soared 9.8% to 335p as markets opened this morning.
Morning update
The FTSE 100 took a slide this morning as investors nervously waited to hear from the Chancellor later today. The index opened down by 1.2% to 5,826pts.
It's been a rollercoaster week for food, retail, travel and leisure shares. Marston's, which has experienced high volatility, is back down another 4.9% to 42.8p. The torrid week for M&S continued as the retail fell another 3.2% to 97.2p, and WH Smith opened down 2.8% to 951p.
SSP Group also gave up some of yesterday's gains to open down 4.5% to 193.9p.
There were few risers beside Pets at Home this morning, with Sainsbury's up 0.4% to 202.7p, Cranswick up 0.4% to 3,536p, and Domino's Pizza up 0.3% to 355.6p.
Logistics group NWF has warned it expected demand to remain volatile in its food business in the coming months as Covid-19 uncertainty continues and the Brexit deadline looms.
At the annual general meeting of the specialist distributor of fuel, food and feed, which is being held later today, chairman Philip Acton will make the following statement:
"Overall trading in the first quarter has been consistent with the board's expectations, with net debt reflecting the normal seasonal fluctuations."
He will add: "Food has been trading behind prior year as stock is repositioned to fill the new Crewe warehouse. There has also been significant demand volatility in the short term with increased orders from supermarkets and lower levels from the food service sector. We are anticipating continued volatility of demand in the coming months as a result of the ongoing Covid-19 and brexit uncertainty."
The board's outlook for the financial year remains in line with its previous expectations.
"Overall, the board continues to have confidence in the group's future prospects and we continue to target development opportunities supported by our strong balance sheet and banking facilities," Acton will say.
Agriculture and engineering group Carr's has appointed Hugh Pelham to succeed Tim Davies as chief executive following a search process led by the nomination committee.
Pelham will join Carr's as chief executive designate and as a member of the board on 4 January 2021 and will formally succeed Davies at the conclusion of the group's next annual general meeting, currently expected to take place on 12 January.
Davies will step down from the board at the AGM but remain with the group during a short handover period to ensure a smooth transition.
Pelham brings more than 30 years' experience in leading growing businesses across various sectors. He is currently global president at Minova, part of ASX-listed Orica, which is a manufacturer and supplier of chemical and mechanical earth control products, adhesives and support equipment.
Prior to this, Pelham spent four years as managing director of Wood Group Industrial Services, a provider of specialist coatings, access and fabric maintenance services to the oil and gas, marine and rail industries. He also served as president (EMEA) of Wood Group Industrial Services, being responsible for international growth and leading a team of over 2,000 people.
Pelham said: "I am very excited and honoured to be joining Carr's Group. The company is steeped in technology and innovation across both agriculture and engineering, which, together with its market-leading brands, provides a strong platform for driving growth and increasing profitability. I am very much looking forward to working with the team, and to play my part in the group's exciting future."
Chairman Peter Page, Chairman added: "I am very pleased to welcome Hugh to Carr's. He is a first-rate business executive with a track record of consistently delivering top and bottom-line growth at both privately-owned and publicly listed businesses. From scaling founder-owned enterprises to leading swift and decisive turnarounds, Hugh's considerable experience will be of real value when leading a business as diverse as Carr's."
Yesterday in the City
The FTSE 100 clawed back some of Monday's losses yesterday after renewed coronavirus restrictions were not as stringent as investors feared. It climbed 1.2% to 5,899.26pts, with the fall in the value of the pound also helping many the index's constituents, who earn the majority of their earnings overseas.
SSP Group was the big winner yesterday, jumping 12.3% to 203p after it reported improved trading as outlets of its Upper Crust, Starbucks and Burger King concessions reopened around the world. The group also said cost control measures, such as rent waivers and mass redundancies, meant losses would not be as large as feared.
Other risers yesterday included Marston's, up another 9.1% to 45p and regaining most of Monday's losses, B&M European Value Retail, up 3% to 473p, and Cranswick, up 3.4%.
British American Tobacco and Imperial Brands also shot up another 2.5% and 1.8% respectively after an investment note touted potential share buy backs at the groups.
AG Barr, which rose 15% after its results on Tuesday, was also up another 1.2% to 435p.
PZ Cussons fell 2.3% to 210p as the group said its full-year results were hurt by a lack of beauty sales and people shower less during the coronavirus lockdowns, with Imperial Leather and Original Source affected.
Other losers included Fevertree, down 0.6% to 2,300p, Hotel Chocolat, down 0.7% to 357.5p, and M&S, down another 1.5% to 100.5p.