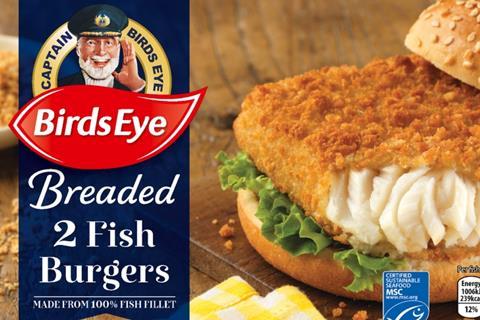 Birds Eye owner Nomad Foods has posted a 10.5% jump in first quarter sales due to "unprecedented" demand for frozen food driven by the coronavirus outbreak.
Total reported revenues grew 10.5% to €683m, with organic growth of 7.7% consisting of 6.3% volume growth and a 1.4% rise in pricing.
Gross profit increased 4% to €199m as gross margins fell back 180 basis points to 29.1% as pricing, promotional efficiencies and mix were offset by cost of goods inflation.
Adjusted Profit after tax decreased 5% to €68 million, reflecting Adjusted EBITDA decline and higher finance costs.
Adjusted operating expenses increased 14% to €97m reflecting double-digit growth in both advertising and promotions and indirect expenses as a result of phasing.
As a result of the coronavirus-driven sales boost, the Company is raising 2020 guidance and now expects Adjusted EBITDA of approximately €450m to €460m up from its prior expectation of €440m to €445m.
Full year guidance now assumes organic revenue growth at a mid-single digit percentage range versus the prior expectation of low-single digit organic revenue growth.
Nomad CEO Stéfan Descheemaeker commented: "First quarter revenues and earnings were significantly ahead of our expectations due to the unprecedented level of consumer demand for frozen food driven by the COVID-19 pandemic.
"This change in consumer behavior, which began in early March, has continued into the second quarter with in-home consumption the most meaningful driver. Our organization has collectively risen to the challenge by ensuring the continuous supply of our products and brands throughout this crisis while prioritizing the health and safety of our employees."
Noam Gottesman, Nomad Foods' co-chairman, added: "As Europe's leading frozen food company, we are honoured and humbled to serve our communities during this time of need. Our business model and supply chain are demonstrating extreme resilience as we all adapt to the current situation.
"As consumers eat more meals at home and gravitate towards brands they trust, we are addressing a growing need for quality, convenient, and reliable products. In addition, our financial and liquidity profiles have never been stronger, providing the flexibility to opportunistically repurchase shares during the first quarter of 2020."