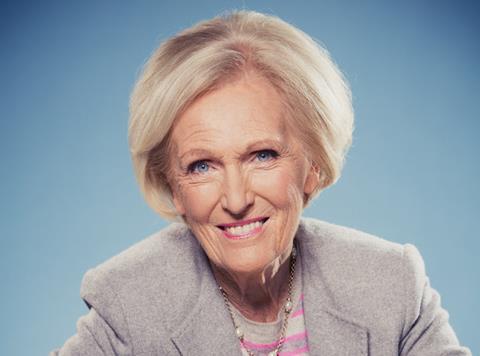 Finsbury Food Group (FIF) has turned to former Bake Off judge Mary Berry to sweeten sales with a new range of cakes as inflationary cost pressures squeeze the business.
The nine-strong range, secured under licence, are set to hit supermarket shelves this spring, the group said today as it posted first-half results.
Sales in the 26 weeks to 31 December were flat compared to the same period a year earlier at £156.6m as rising input costs and the weak pound weighed on Finsbury.
CEO John Duffy is hoping the new tie-up with Mary Berry, who quit The Great British Bake Off last year ahead of a switch from the BCC to Channel 4, will inject growth back in to the group. Berry's fellow Bake Off star Paul Hollywood lent his name to Premier Foods in late 2015 for a range of home-baking products to help kick-start flagging sales growth at the rival cake maker.
Mary Berry said: "I am extremely proud of every single one of the cakes in the range I have created with the team at Finsbury. Together we have ensured that all the cakes taste great and are faithful representations of many of my favourite recipes. I hope people enjoy eating them as much as we have enjoyed creating them."
Operating profits at Finsbury increased 4% in the first half to £8.3m as margins expanded 0.2 percentage points to 5.3%. Pre-tax profits also jumped 5.3% to £7.9m.
However, shares have fallen 2% today (20 March) to 110.8p as Duffy warned that rising commodity prices, the impact of the devaluation of sterling and growing labour costs continued to present a challenge.
"Well documented market challenges persist. However, the group has prepared well and is continuing to work hard to mitigate against these," Duffy said.
Finsbury has been hit hard by the rising price of butter, which has more than doubled in the past year, used in its cakes and to make its buttercream, as well as higher cocoa and sugar costs.
Duffy added the group was "working hard" to mitigate input cost inflation through continued operational efficiency, investment in automation and negotiating price rises with its customers, which include Tesco and Marks & Spencer.
"It starts with us with our capex programme," he said. "If you went back a few years you were lucky if we spent £6m per annum, albeit on as a smaller group, whereas last year and this year we are on £12m.
"We are spending a lot of money to become more competitive as the cost of labour rises. We knew commodity cycles were turning but the Brexit vote did catch us a bit by surprise, which means the degree of commodity cost inflation that we were planning for is significantly higher than we thought it would be."
Capital expenditure came in at £5.3m in the first half, £1.6m higher than the same period of 2015, as Finsbury invested in a new cake line at the Cardiff facility to help reduce waste and increase efficiency savings.
Revenues in the core UK bakery division declined 2.9% in the half to £143.2m as a result of lower promotional activity for its celebration cakes in response to higher input prices.
The overseas business propped up group sales after the euro-denominated division received a boost from currency movements. Duffy said, however, that about half the 32% jump to £17.6m came from organic growth.