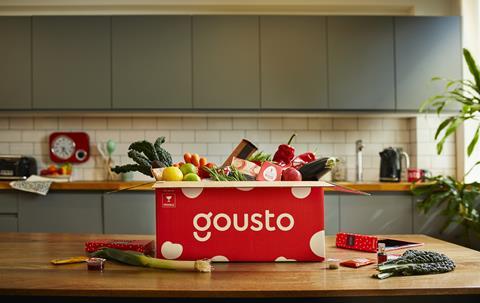 Losses have ballooned to almost £160m in 2022 at Gousto as costs spiralled and rapid growth reversed for the first time in the recipe kit supplier's 11-year history.
Revenues declined by £10m to £306.7m in the year to 31 December 2022, a year-on-year reduction of 2% once adjusted to account for the 53-week financial period in 2021. The fall breaks a nine-year run of double-digit growth for the business.
It comes as consumers returned to restaurants and spent more time out of home following the pandemic, which had helped supercharge Gousto's top line from £82m in 2019 as customer demand spiked. The group also highlighted the cost of living crisis dampening shopper spending power.
The slowdown pushed Gousto to a loss at an underlying level of £8.4m following two years of profitability.
Pre-tax losses also plunged from £19.9m in 2021 to £157.6m last year, with £105m of the total relating to one-off charges as the group mothballed two distribution warehouses and closed a production facility.
Following the reset to the cost base, which is now set to be £30m a year lower, Gousto said it would return to profitability at a trading level in 2023.
First-half underlying EBITDA totalled £8m, an improvement of £12m on the same period in 2022, with forecasts for more than £20m in the full year.
Gousto added customer sign-ups, marketing effectiveness and operational efficiency were all back ahead of pre-Covid levels and the group said it retained sufficient production capacity to more than double revenues from current levels without significant additional capex investment.
"Since launching Gousto in 2012 food price inflation averaged less than 1.5% but within months of the Ukraine war we had to manage sustained double-digit growth in food costs, with many individual ingredients hitting record levels," said CEO and founder Timo Boldt.
"We have returned the business to profitability in 2023 whilst also pushing forward on our purpose to build an amazing product with a positive impact on people and the planet.
"Gousto has protected customers from spiralling food inflation during the cost of living crisis and in doing so we have increased our relative competitiveness against the traditional grocery market."
Gousto has also strengthened its balance sheet with an agreement for a new £30m debt facility with Signal Capital Partners.
Alongside £50m of fresh equity and £20m of debt funding, raised in February, it gives the group the "necessary firepower" to invest in future growth. It was reported at the time that Gousto raised the £50m at a significant discount to its past $1.7bn valuation.
"The mega trends of convenience, health and sustainability will continue to shape the grocery industry and at Gousto we are increasingly confident that our leading proposition of the most choice, best value and better for the environment, with 23% less emissions than a traditional supermarket shop, will power our future growth," Boldt added.