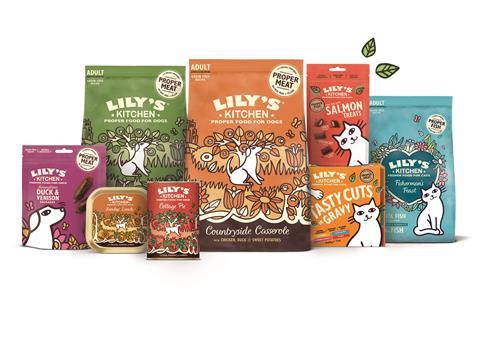 Sales at Lily's Kitchen have soared 39% in its first year of Nestlé ownership amid a boom in pet ownership during the pandemic.
Turnover jumped more than £15m to £55.4m in the 12 months to 31 March 2021, accounts at Companies House show.
The figures follow a 29% rise in the prior year, and mark a continuation of the premium brand's run of rapid growth since its formation by Henrietta Morrison in 2008.
Lily's continued to expand outside the UK last year, with overseas sales leaping 65% to £7.6m, while the domestic business grew by 36% to £47.8m.
The business also returned to profitability after a series of "planned" losses in previous years as a result of heavy investment.
Operating profits in the latest financial year totalled £4.4m, compared with a loss of £3.2m in 2019/20.
After a one-off gain of £106.7m – which the accounts reveal as the price paid by Nestlé Purina – pre-tax profits soared to £110.5m.
Lily's continues to operate as an independent company, with Nestlé employing an arm's length approach since the 2020 takeover.
"We are confident our continued focus on high-quality natural food for cats and dogs will lead to another successful year," CFO Tom Sirett wrote in the accounts. "Lily's Kitchen has experienced fast growth in each year since launch in 2008. This is being driven by an increasing demand in almost all of our ranges, customers and markets."
Since the year end, Lily's appointed petcare veteran Nicola Magalini as its new CEO, taking the reins from outgoing boss David Milner, who left to take charge of bakery group St Pierre.
Milner had led the pet food brand since 2018 when Morrison vacated the role for a wider chairman and global brand director position.
He helped rapidly accelerate growth at the business as he widened distribution in supermarkets, started dealing with Amazon, expanded internationally and ramped up the DTC side of the business.
Lily's declined to comment on the latest financial performance.