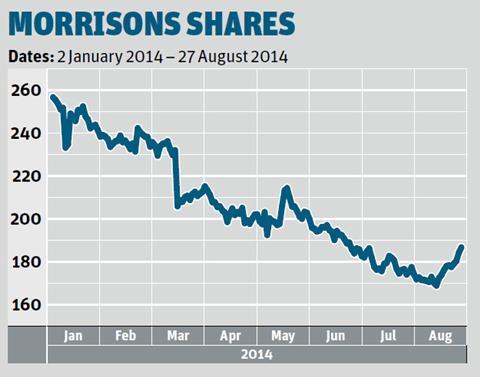 The market left little doubt as to its winners and losers from this week's Kantar Worldpanel figures. On Wednesday, Morrisons was one of the FTSE's top risers as the data seemed to hint at the first green shoots of a recovery, while Sainsbury's and Tesco shares plunged.
Morrisons ended Wednesday 1.5% up to 184.4p and rose again in early trading on Thursday to 188p – its highest point since June. It was driven higher by signs its action on price was taking effect. Though its 12-week market share declined from 11.3% to 11%, over the final four weeks of that period its grocery sales rose by 2.4%.
All three listed supermarkets had experienced strong share price growth in the run-up to the Kantar data's release as the market expected some cause for optimism. However, Sainsbury's shares plunged 2.8% to 304.2p by close on Wednesday after it emerged that its year-on-year sales for the four weeks to 18 August had surprisingly fallen by 2.2%. Tesco too disappointed optimists after its 4% 12-week sales fall and its 3.8% sales contraction over the four week period. Tesco's shares fell 1.5% to 249.3p on Wednesday.
Shore Capital analyst Clive Black said Sainsbury's was up against tougher comparatives than some of its contemporaries, but harboured concerns about its current trading. "Sainsbury's is now performing in a relatively subdued manner when the market leader is in trouble, so how may it perform if Tesco 'got its act together'?"
Morrisons' online partner Ocado leapt by 3.9% to close on Wednesday at 403.6p. However, the digital retailer's shares collapsed by 11.5% in early trading on Thursday to 357.2p after analysts at Redburn cut their sales forecasts and slashed their price target from 500p to 257p.
Elsewhere, newsagent group McColl's was up 1.8% to 197.5p by close on Wednesday despite posting a slip in third quarter sales. Like-for-likes fell by 0.5% in the 13 weeks to 24 August against a strong summer in 2013, but total sales for the period rose 4.3%.