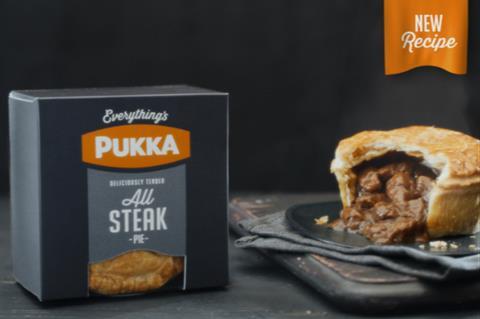 Sales at pie manufacturer Pukka Pies have risen last year on the back of ramped-up marketing and advertising spend.
The Leicestershire-based business saw revenues up 6.7% to £52.7m in the year to 25 May 2019 as the company continued to invest in the brand through innovative advertising campaigns.
During the year, Pukka activated a £6m advertising push, including a 12-month campaign to "re-engage the nation in eating more pies".
To prepare for British pie week, the brand has released "pie-sonalised" pies with the "top 10 names of Brits most likely to love pies" printed on the packaging.
Following the year end, it continued its advertising push releasing its 'The People's Pie' campaign, which resonated strongly with the public.
Furthermore, the pie maker expanded into the convenience channel with its first on-the-go options, including a sausage roll, meat & potato pastry and puff pastry pie in two variants.
Pre-tax profits rose to £3.6m from £2.7m, despite raw material cost inflation.
Looking ahead, Pukka's directors expected further sustained growth as the company continued to build brand awareness.
A significant investment in the company's bakery was also planned for the 2019/2020 financial year.