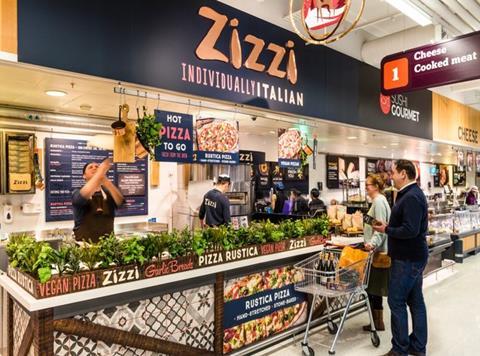 Sainsbury's is bringing restaurant-quality pizza to the supermarket with a new Zizzi counter.

The supermarket's Balham branch today unveiled a branded hot pizza counter with a stone oven.

The new fixture will sell Zizzi's hand-stretched Rustica pizzas made to order with a range of toppings, including vegan options and a "pizza of the month" special.

Customers will be able to order the pizzas in-store or on the Zizzi website for collection at the counter.

Alternatively, those who would rather not leave the comfort of their own home can order a pizza for delivery using Deliveroo.

Sainsbury's hopes pizza lovers will also buy into its other aisles, as Zizzi customers said they were most likely to purchase a bottle of Pinot Grigio, bagged salad and a dessert alongside their takeaway.

"We think customers will love the convenience of being able to pick up their ready-to-eat, restaurant-quality pizza alongside their other favourite foods for a special meal, all under one roof," said Sainsbury's director of fresh food Adrian Cook.

The counter is the latest bid by Sainsbury's to tap into the growing food delivery market, which is expected to increase by 10 per cent a year to £53bn by 2020.

Last month, the supermarket began trialling an own-brand hot pizza counter in three of its stores: Redhill, Cambridge Eddington and Bradford.

Zizzi is the fourth foodservice brand to partner with Sainsbury's over the past year, alongside Patisserie Valerie, Crussh and Sushi Gourmet.

There are now 28 Sainsbury's stores offering Patisserie Valerie produce and there will be 50 Sushi Gourmet counters across its branches by the end of the year.