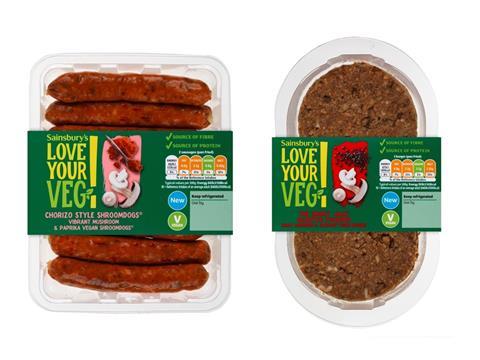 Sainsbury's has beefed up the number of meat-free SKUs it stocks in its meat, fish and poultry aisles, following a trial with two products last year.
The retailer rolled out the rejigged meat alternative offer yesterday (27 January) at 20 stores, repositioning 26 vegan and vegetarian own label and branded meat alternatives. A host of brands including its Love Your Veg sub-brand as well as a range of Meatless Farm, Quorn, Linda McCartney's, Heck and Vivera SKUs will be merchandised alongside their meat equivalents.
It came in response to increased interest in flexitarian diets, which saw Sainsbury's increase sales of plant-based food and drink by 65% last year in comparison to 2017, it said. Searches for vegan food on Sainsbury's online shopping portal had also increased by around 85% during the same period.
The move follows a trial last October, in which the retailer began stocking vegan-friendly burgers and mince by Danish brand Naturli alongside their beef equivalents in meat chillers of 400 stores. However, the trial has since finished, seeing Naturli move back to the meat-free fixture.
A spokeswoman for the retailer insisted the trial had been a hit with consumers, leading to its decision to once again to remove SKUs from the meat-free chiller and restock them in the meat, fish and poultry cabinets.
"We're seeing increasing demand for plant-based products, and with the unstoppable rise of 'flexitarianism' in the UK, we are exploring further ways to make popular meat-free options more accessible," said plant-based buyer Rosie Bambaji.
"We hope that this trial will make our customers' shopping experience even more seamless, and we're looking forward to hearing their feedback."