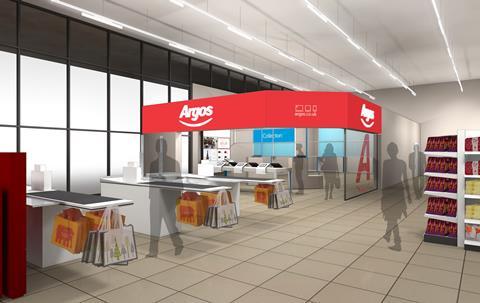 Sainsbury's is forging ahead with plans to reinvent the 6% of shop floor space it no longer requires for grocery, with the launch of two Argos digital stores.
The smaller format concepts opened in Sainsbury's North Cheam, Surrey and Nantwich, Cheshire today (Wednesday 27 May)
A further eight Argos stores, which range in size between 1,000 and 5,000 square feet, are due to open over the summer at Sainbury's West Hove, Crayford, Calcot, Bognor Regis, Durham, Rustington, Drumchapel and Keighley.
More than 20,000 products will be made available for customer collection, and those who order Argos goods by 1pm will be able to pick them up them by 4pm on the same day.
"This partnership with Argos is one of a series of steps we are taking to ensure we continue to offer our customers a wide range of products at great value and to make their shopping more convenient," Sainsbury's retail & operations director, Roger Burnley, said. "We are looking forward to working with Argos to ensure the best availability and shopping experience for our customers."
Argos director of retail and customer operations, Steve Carson, added: "Working with Sainsbury's will help us to bring the convenience of the Argos offer to more customers. This is the first time we have had stores in these specific locations."
According to Sainsbury's, around half of Argos' total sales now start online, but 90% of customers will visit one of 755 stores to pick up their goods.