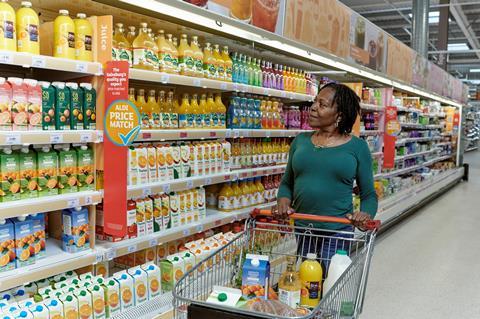 Sainsbury's is ramping up its value efforts with a £60m investment across its Aldi Price Match, Price Lock and Special Offers campaigns this autumn.
The supermarket said it was launching its "biggest ever September value offer" to help ease the pressure of the cost of living crisis on its customers.
Sainsbury's is increasing the number of products in its Price Lock campaign by 20% to include more own-label items as shoppers increasingly turn to own brand amid rising living costs.
This follows a report by The Grocer earlier this month that showed the retailer had consistently been shrinking its Price Lock campaign since the start of the year, with the number of price-locked items down 20% since January.
It now said that around 8% of its full range was included in the new round of Price Lock, which holds the prices of up to 2,000 household and cupboard items for at least eight weeks.
Sainsbury's CEO Simon Roberts said the retailer was committed to helping customers through a "tough" back to school season.
"With families across the country facing big increases in their energy bills, the situation is serious and our most important job at Sainsbury's is to help our customers in every way we can.
"We have made huge strides to lower prices since we launched our new plan but we are committed to going further.
"Own brand is a great way for customers to reduce their shopping bill with no compromise on quality and that's why we're increasing the number of own-brand products in our latest Price Lock."
The grocer's Aldi Price Match campaign will also continue to focus on highest volume, fresh items. Around 40% of its top volume lines – such as chicken breast fillets, beef mince, eggs, milk and bread – are now the same price as the discounter.
This latest investment round is part of Sainsbury's' commitment to spend £500m by March 2023 to keep a lid on grocery prices.
In addition to the £60m invested in food and grocery, the company is also spending a further £5m to lower the prices of up to 900 Argos and Habitat furniture items from 7 September.
"These are difficult times and all of us at Sainsbury's are standing with our customers to ease the financial pressure they face," Roberts added.