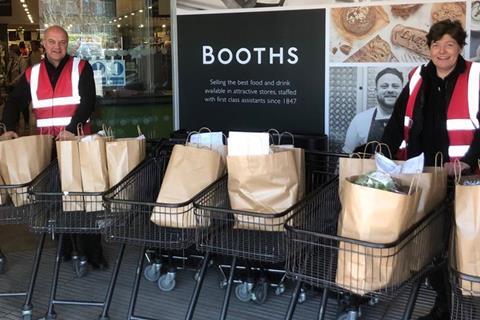 Booths has relaunched its emergency grocery delivery service for vulnerable shoppers this week following an increase in demand.
Local lockdowns in areas such as Preston and Manchester have led the retailer to offer the deliveries of essential grocery packages again to "help communities cope" with an upsurge in people self-isolating.
The service gives vulnerable shoppers, or those shopping on their behalf, the option to have everyday food and drink products including fruit & vegetables, fish, meat, bread, milk, eggs and ready meals delivered to their doors.
Customers can choose between 14 pre-selected bundles designed for two or four people. These include the salad box (rsp £6.50 for two people or £13 for four), essentials box – which includes milk, cheese, coffee, butter and sugar (rsp: £13/£19), fruit & veg box (rsp £10.50/£22), and meat box (£12.50/£20).
Orders can be made by shoppers in the surrounding areas of 27 of Booths' 28 stores across Lancashire, Yorkshire, Cumbria, Cheshire and Greater Manchester. This excludes its Media City, Greater Manchester branch.
Delivery radius varies from store to store, ranging from three to seven miles. There was a three-mile radius across the board when the operation was first introduced in March.
It operates Monday to Friday with a two-day turnaround for orders placed Monday to Wednesday, a four-day wait for orders that take place on Thursdays and three days for those made on Fridays.
The items can only be ordered and paid for over the phone via Booths' central customer service team. There is also a flat-rate delivery charge of £3 and minimum order value of £20.
The grocery chain said it was unable to offer specific delivery time slots for the service. It did, however, confirm deliveries would be made while adhering to social distancing protocols.
The retailer originally implemented the service in March, before ending it as national lockdown measures eased in August. It will be available this time until 18 December.
"In order to further help our communities, we are offering a limited delivery service, designed for those who are unable to get to the shops themselves or to send someone on their behalf," said Booths.
A spokeswoman for the supermarket told The Grocer it would review customer demand for the deliveries and "alter plans accordingly" if need be.
This follows Booths launching a click & collect operation in April to help meet customer demand when the coronavirus pandemic began, followed by beginning a partnership with Deliveroo to give 400,000 households across Lancashire and Greater Manchester access to over 300 essential lines for home delivery in as little as 30 minutes.
The family-owned chain has also offered deliveries through AmazonFresh since 2017 to 302 postcodes across London, Surrey, Hampshire, Bedfordshire and Hertfordshire.