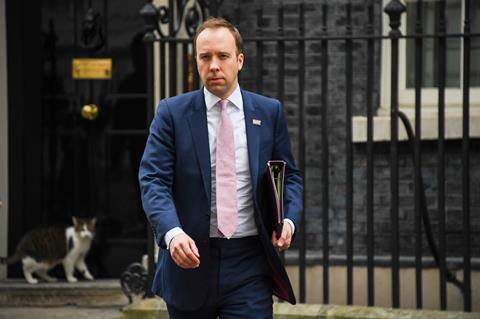 Health secretary Matt Hancock has announced the government is working with supermarkets to ensure food supplies are safeguarded as the coronavirus outbreak worsens.

He said ministers had drawn up contingencies so people self-isolating at home to try to prevent the spread of the illness would be supplied.

His intervention comes amid growing fears that supermarkets could face panic buying as consumers attempt to stockpile food.

The number of cases of people self-isolating has risen after the government said anyone returning from Italy feeling unwell should stay at home as a precaution.

Speaking on BBC's Question Time last night, Hancock said there was "absolutely no need" for people to stockpile.
But he added: "The government has supplies of the key things that are needed. And within the food supply, we are absolutely confident that there won't be a problem there.
"Crucially, we are working with the supermarkets to make sure that, if people are self-isolating, then we will be able to get the food and supplies that they need."

The updated travel advice, which follows the first UK death from coronavirus, urges anyone coming back from anywhere in Italy to the UK to self-isolate if they start showing even mild symptoms of coronavirus, including a cough, fever or signs of muscle ache.

"If you have returned from Italy in the last 14 days and develop symptoms, however mild, you should self-isolate and call NHS 111," said the NHS.

Hancock's announcement of emergency talks with the supermarket comes days after Waitrose became the first supermarket to flag up information for customers told to stay at home. The retailer published information on its mobile app to say it is "still happy to deliver" to customers that are self-isolating due to coronavirus, but they must contact customer services to let them know, after their order is placed.

It said it needed to "discuss specific arrangements" with self-isolating online shoppers and they needed to select a safe place where its delivery drivers could leave shopping.

"As a responsible retailer, we are doing this temporarily to keep our customers and our drivers safe," said a Waitrose spokesman.