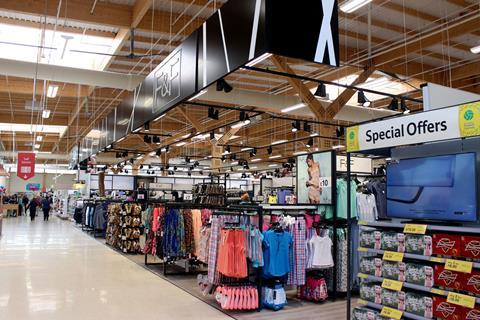 Tesco has reopened standalone "non-essential" sections of stores across England, after a furious backlash from shoppers angry at lockdown measures which saw them closed off.
The retailer removed barriers to the areas on Saturday, a week after closing its separate mezzanine levels featuring the likes of F&F clothing and other non-food items, in response to government guidance.
Retailers were told by ministers to shut down separate mezzanine floors, standalone neighbouring buildings and concessions selling items such as homeware, clothing and electronics.
However, the move was met with anger and confusion, with other supermarkets including Asda and Sainsbury's deciding not to follow government guidance and instead keep their standalone non-food areas open.
A raft of other non-food stores including Wilko, The Range, Carpetright and Ryman also decided to keep their stores open, despite the government telling retailers it would use local environmental health teams and if necessary the police to enforce its guidance.
Tesco had been inundated with responses from shoppers on social media, with claims its move had made it impossible for them to buy products such as children's clothing.
A spokeswoman said: "Our mezzanine levels are now open again for customers in all our stores."
Tesco's move came as more than 60 retail CEOs wrote an open letter to The Times this weekend to voice concerns about the impact of the forced closure of "non-essential" retailers during lockdown.
"With less than two weeks to go until the chancellor's spending review it is vital that retailers get the clarity they need over the future. Christmas is fast approaching, and half of retail has been forced to shut – depriving these stores of around £2bn per week in sales.
"A continued period of retail closure will see more shuttered high streets and many more job losses at the heart of the festive season."
"The closure of thousands of retailers is compounding the challenges facing our high streets," said BRC CEO Helen Dickinson. "Rents continue to mount, and the business rates cliff-edge is looming. All the while, government reports show the impact of closures on Covid transmission is low."