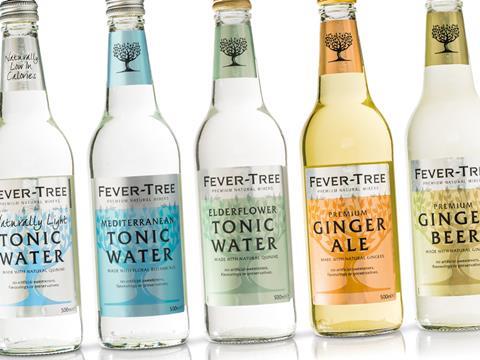 Retailers had another gruelling year in 2015, with plummeting sales, the unstoppable rise of discounters and the migration to online shopping continuing to plague the supermarkets in particular.

But it's not just supermarkets who are struggling amid the market upheaval, with Home Retail Group - which this week emerged as the shock subject of a takeover bid by Sainsbury's - the worst performing stock in The Grocer 200.

However, suppliers have more reasons to look back fondly on the past 12 months, with Fever-Tree the best performing stock in The Grocer 200.

Shares in the posh mixer business rocketed an incredible 244% in 2015 after a £154m float in November the previous year, benefiting from the trend for premiumisation as well as a lack of competitors. Sales and adjusted earnings both jumped more than 60% in the first half of the year, with a surprise upgrade issued by the business in November as it continued to perform materially ahead of expectations.

Andrew Blain at securities firm Cenkos says there is room for further upgrades, with Fever-Tree likely to be an attractive target for larger beverage players. Priced at 134p at the time of the IPO, the stock is now worth close to 600p, valuing the company at almost £700m.

Other suppliers registering hefty gains included Finsbury Food Group, Cranswick, Hilton Food Group and Nichols - many growing through M&A in 2015. Cakes and baked goods supplier Finsbury had a transformative year, with the £56m acquisition of morning goods specialist Fletchers in the last quarter of 2014 doubling annualised revenues to £300m and providing a platform to fulfil ambitions to become a £500m business.

Bargain Booze owner Conviviality Retail also saw its fortunes transformed thanks to the ambitious acquisition engineered by CEO Diana Hunter of the much bigger wine wholesaler Matthew Clark; Dairy Crest's shares jumped 39% over the year as the disposal of the liquid milk business was finally approved by the CMA; and SAB Miller rose 21% to 4,000p on the back of one of the biggest deals in corporate history as AB InBev bared its teeth.

No guarantee of share surge

However, M&A activity was no guarantee of a ballooning stock price in 2015 as Majestic Wine and Poundland found. Majestic's £70m takeover of Naked Wines - with Rowan Gormley installed as CEO - did nothing to stop plummeting shareholder value. Gormley radically altered group strategy, halting the store opening programme, selling wines by bottle rather than case and giving more power to store managers.

Liberum analyst Wayne Brown says the share price fall can be understood in the context of broker downgrades to pre-tax profits as Majestic changed its operating model. "Majestic is one of the strong buys of 2016 because there is a structural growth story, self help, margin opportunity and latent sales opportunity. They now need to prove Naked Wines is a huge growth engine."

Poundland is in much the same position he adds. It all started so well for the discount chain, with the stock, which floated at 300p in March 2014, soaring to a record high of 412p as it announced a deal to buy rival 99p Stores in February.

But a seven-month regulatory tussle with the CMA, lower high street footfall, worries over the impact of the living wage and a fall in like-for-like sales hurt the stock badly. To make matters worse, 99p Stores was revealed to be in terrible shape once Poundland got clearance for the deal.

Sainsbury's emerged as the one shining beacon for the traditional supermarkets, with its shares outperforming the industry and the general retail sector to climb 3.5%. Indeed, its surprise bid for Argos and Homebase owner Home Retail inflated the latter's share price 41% on Tuesday.

"The UK is becoming more Sainsbury's friendly," Bruno Monteyne of Bernstein says. "The more your first shop is in an Aldi or Lidl, the more your second shop is in a quality store, where Sainsbury's has an advantage."

Elsewhere, after rising to year highs in April on a wave of optimism instilled by new CEOs Dave Lewis and David Potts, Tesco and Morrisons shares started on the steady decline that would see the latter finally dumped out of the blue-chip FTSE 100.

The rollercoaster at online rival Ocado continued as a maiden profit after 15 years in business in February and strong double-digit growth in its first half saw shares swell to 468p. The failure to deliver its first partnership with an international grocer and serious worries over the growing threat posed by Amazon, led the City to turn its back on the stock in December.
Who are the brokers backing in 2016?
Brokers are backing the listed discount retailers to bounce back from their troubles.
Data from The Grocer's finance channel shows Poundland has among the highest proportion of broker 'buy' recommendations from any retail and fmcg stock, with seven buys and two neutral ratings. B&M European Value Retail also fares well, with five buy recommendations and one neutral. The positive outlooks come after Poundland lost almost a third of its value since mid-November and B&M dipped back well below its 300p float price in December.
At the other end of the retail spectrum M&S is tipped for a strong 2016, with 10 buy recommendations from the 15 analysts following the stock.
Tobacco is also a hot tip this year, with BAT recommended by seven of its nine analysts and Imperial Tobacco getting eight buy recommendations against two sell ratings. Other strongly tipped stocks include Diageo (nine buys from 13 analysts), Reckitt Benckiser, Britvic and SSP Group.