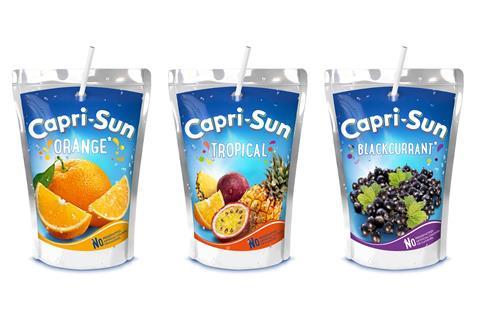 Coca-Cola Europacific Partners is reformulating Capri-Sun to make it non-HFSS.
The soft drinks giant this week confirmed its Orange, Tropical and Blackcurrant juice pouches would undergo "a marginal recipe change … keeping them as delicious as before and aligning them with the wider Capri-Sun portfolio to be HFSS compliant".
Capri-Sun's Multivitamin Squash range is already HFSS-compliant, as are its Cherry juice pouches.
"We know that naturalness and the presence of no added sugar have long been top of the priority list for parents when buying drinks for their kids", said CCEP commercial development VP Martin Attock. This was why its "'nothing artificial' credentials" featured "prominently on-pack, to make the fixture easier for parents to shop, and to maximise sales", he added.
Speaking at The Grocer's HFSS Clampdown conference this week, CCEP GB category development director Oliver Crick said 86% of its entire soft drinks portfolio would be compliant by the time of the planned legislative changes.
A handful of hero products, however – including Coca-Cola Original and Monster Energy – will not be reformulated. Fanta is already HFSS-compliant.
"If you reformulate, you've got to achieve taste parity; if you don't, consumers are going to reject the product," said Crick. For sugar-conscious consumers, however, Coca-Cola Zero Sugar, Fanta Zero and Monster Ultra offered "really credible alternatives" to the original recipes, he added.
This isn't the first time Capri-Sun has undergone a reformulation. A 2018 recipe change saw the brand halve its sugar content, which it achieved by rolling out stevia-sweetened juice pouches.