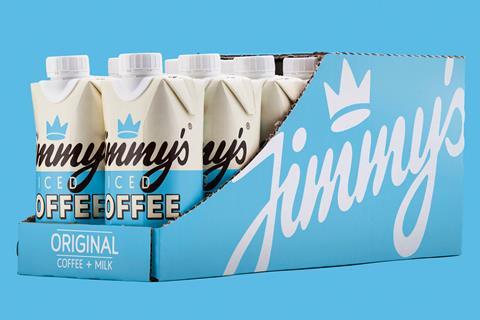 Jimmy's Iced Coffee is targeting small retailers with a new trade subscription service.
The brand has begun offering a regular supply of its drinks either bi-monthly, monthly or six-weekly to retailers – and workplaces – with an eye to making it "easier for smaller retailers and workspaces to stock Jimmy's whilst enabling them to benefit from increased savings vs buying ad-hoc", said the brand.
"Lockdown began the rise in online orders at Jimmy's, an area we have never properly explored," said the brand's co-founder Suzie Owen. "As our B2C subscribers have increased month on month, we thought, why not launch one for trade too?"
The range available includes Jimmy's Original, Flat White, Vegan and Skinny SKUs at £14 per case of 12, with a minimum order quantity of eight cases. Subscribers will be given two free cases when they sign up, which the brand said would "incentivise" businesses to join.
Orders are taken directly through the Jimmy's website.
It comes as the brand's online sales have surged 3,000% this year amid the pandemic. Jimmy's did not put a financial figure to this rise but a spokeswoman said it "went from taking monthly income in the hundreds, as the shop was positioned as more of a marketing tool for existing fans than a sales channel, to tens of thousands per month as shopping behaviours changed".