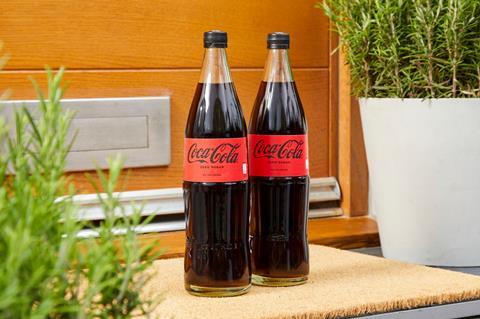 Milk & More is to partner with Coca-Cola Europacific Partners (CCEP) to trial the delivery and collection of refillable Coke Zero Sugar bottles to and from customers' doorsteps.
From 5 June, Milk & More customers will be able to order one-litre glass bottles of Coke Zero for delivery, which can be left on their doorstep for collection once emptied and rinsed.
The bottles can be washed, refilled and reused up to 20 times, resulting in an 82% smaller carbon footprint versus single-use glass, according to Milk & More.
The trial is projected to run for eight to 12 weeks (while stocks last), and will operate across south London and central southern England.
It would enable CCEP to reach nearly 100,000 customers across the trial area and learn more about consumer understanding of refillable packaging, said Milk & More.
"The trial between Milk & More and Coca-Cola Europacific Partners offers another way for consumers to buy soft drinks and reduce the amount of packaging used," said Milk & More CEO Patrick Müller.
"Our customers want to be more sustainable, but they are busy people and need simple solutions to help them, so we are confident that they will welcome this trial as it offers them exactly the same service as they already have with Milk & More," Müller added.
Trials like these were "an important step in our sustainability journey", added CCEP senior sustainability manager Jo Padwick.
"The results of this trial will help us understand the potential of refillable services in GB as we push forward with our ambition of a World Without Waste and ultimately create a more circular economy."