Nestlé set out plans this week to invest £2.6bn to eliminate all emissions from its supply chain by 2050.
It's the biggest financial commitment yet to net zero initiatives by a consumer goods group.
The target is in line with last year's government report that set the entire food industry the 2050 target for carbon-neutrality.
While the FDF recently claimed the industry would only get two-thirds of the way there without government support, some companies are ploughing ahead to set ambitious targets that set them apart from the industry.
Here, we take a look at some of the top pledges and achievements from across UK food and drink.
Tesco
Tesco is setting up solar farms, fitting solar panels across its stores and rolling out electric vehicles to try and bring forward its target to be net-zero on carbon emissions by 2035.
The retailer has partnered with renewable energy investor, Low Carbon, to set up three solar farms in Anglesey, Essex and Oxfordshire. It will fit thousands of solar panels across its UK stores with 60 stores set up so far.
This initiative, launched this month, brings forward the supermarket's ambition to reach net zero in its UK operations from 2050 previously.
Sainsbury's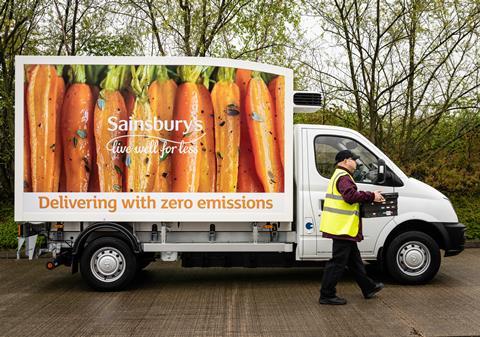 Sainsbury's pledged £1bn back in January to ensure it achieves net zero carbon emissions by 2040.
Its primary focus will lie in reducing carbon emissions, food waste, plastic packaging and water usage while encouraging recycling, biodiversity and heathy, sustainable eating. It also intends to work with suppliers to encourage them to reduce their own carbon footprints.