The popularity of vertical farming is on the rise. Can it grow from a niche to a major source of food?
James Lloyd-Jones first heard about vertical farming when he was seven years old. He was watching Tomorrow's World, the BBC science show that had joyously predicted robotic secretaries, flying cars and paper pants. But this particular episode, exploring the then-revolutionary farming techniques that saw crops being grown indoors, stuck with him.

"I wanted to do something that could bring greater sustainability to the farming sector and make sure that crops are healthier and fresher than they are now, at source," he says. It was no childish pipe dream. Two decades on Lloyd-Jones, along with his co-founder Paul Challinor, now run the largest vertical farm in Europe.

The Jones Food Company sits on an industrial park in Scunthorpe, a few miles off the busy A1077. Housed in a disused cold storage unit it spans 5,000 sq m, where staff in white overalls tend to bunches of dill, watercress and coriander, all bathed in a pinkish glow.

Less farm and more state-of-the-art science lab, each variable is tightly controlled, from air quality, to the spectrum of light that beams down from the 12km of LEDs, to thousands of data points that can affect taste. Long trays are stacked up to 17 levels high (the team reliant on autonomous vehicles to reach those at the top).
From a first yield in late 2018, Jones Food Company can now produce 10 crops a year, including leafy salad, parsley, watercress and chives. On an annualised basis that amounts to a total of 420 tonnes of fresh herbs supplied to the food industry, including heavyweights like Greencore, with which JFC signed a contract this year.

But the biggest deal for JFC was the 58% stake Ocado took earlier this month, part of a £17m investment in vertical farming by the online grocer (additional plans include a joint venture with US vertical farm business 80 Acres, and Dutch climate control specialists Priva to scale up the tech further).

Why? Experts say it's less about food than cementing its position as a tech pioneer. But CEO Tim Steiner insisted the deal would "allow us to address fundamental consumer concerns on freshness and sustainability and build on new technologies that will revolutionise the way customers access fresh produce".

The plan, he added, was to co-locate vertical farms within or next to CFCs and Ocado Zoom's micro fulfilment centres to "offer the very freshest produce delivered to a customer's kitchen within an hour of it being picked". In fact, the retailer says it could look to open as many as 10 facilities modelled on what Jones Food has created within the next five years.
"People have been talking about vertical farming for years but until now it's been more hype than reality"
For a tech that for so long has seemed part of 'tomorrow's world' "it's a tipping point," says Alan Bullion, special reports and projects director at Informa Agribusiness Intelligence. "People have been talking about vertical farming for years but until now it's been more hype than reality. We've had lots of interesting little ventures, tech people springing up in London or Bristol, growing food underground, but those are small scale. This move means it's getting much more traction."

The technology isn't without its sceptics, though. Or its challenges. So how much has the tech kicked on? And does this latest investment really mark a move into the mainstream for a technology that once shared a screen with flying cars?

From the lab to the 'farm'
As far back as the late 19th century, academic William Gericke baffled colleagues at the University of Berkeley with claims that he could grow plants without soil. Many doubted it. Until Gericke grew tomato vines stretching 25 feet using his early version of hydroponics.

Then came the emergence of artificial lighting in the latter half of the 20th century, followed by sophisticated LEDs, which paved the way for indoor farms that combined hydroponic techniques with a tightly controlled environment in which to maximise production.

More recently these indoor farms have left the safety of academic labs to be tested in a commercial setting. Now there are vertical farms all over the world, from vast Japanese facilities producing 12,000 heads of lettuce per day, to small 80 sq m units sat in the middle of Paris supermarkets to restaurant-quality herbs growing in abandoned tunnels under Clapham High Street.

Its advantages, say advocates, are lower environmental impact, more efficient output and fresher, more flavourful food. Many studies show that it uses less space, less water and produces less CO2. It is also 20 times more efficient per sq m than traditional farming.

"It's the certainty of yield, it's the secure supply chain for retailers, it's more consistent costs because everything is more controllable," lists Steven Dring, co-founder of Growing Underground, which sells its indoor farmed micro herbs and salads to major retailers like M&S, Ocado and Whole Foods Market.

It tastes better too, insists Marc Oshima, co-founder of AeroFarms, a US company set up in 2004 that has nine farms growing 700 different species and employing 140 people. "What we've been most excited about is the response we've been getting around the quality of our products, the flavour and the nutrition. You get feedback from top buyers and top chefs that they feel like their palate has been woken up again, that this is how it used to taste but today that has gone to the wayside - as growers focus on drought resistance, mildew resistance, and how to withstand a complex supply chain. We're putting flavour and varieties at the forefront."
"The overall environmental impact of these operations is enormous - and I do not think they will improve food access, sustainability or security"
This quality has won over many sceptics. But not all. One remaining critic is world-renowned environmental scientist Dr Jonathan Foley. "Vertical farming is basically a solution in search of a problem," he says. "The notion that we would try to grow food indoors - with extremely expensive lighting systems, pumps, sealed environments and costly infrastructure - is certainly not a way to grow food sustainably or affordably.

"Initially, they sound great - because they might be able to recycle water, and temporarily avoid using pesticides - but the overall environmental impact of these operations is enormous, and I do not think they will improve food access, security, or sustainability.

"Moreover, indoor environments may work well to grow some fresh greens - at a high price - but little else. They might be able to grow high-end salads for rich people, with enormous capital and energy costs, but they are not going to do much for feeding the world or addressing issues like climate change."

Tom Wallast, CFO at Priva, understands this scepticism. "The price of the solution is more expensive than low-tech alternatives. But it has benefits, in terms of the reuse of natural resources, and in where you can place the solution, both 24/7 and locally. What we can do today is create a convincing business case for our customers."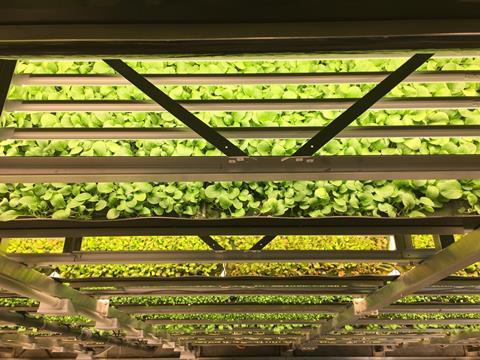 Truly scalable?
Foley isn't wrong though that the output of vertical farming remains limited. Almost all operators continue to focus on high-margin micro herbs and salads, even those at the size and scale of AeroFarms. To become truly scalable, operators need to show they can match the price of field-grown produce, but also that the economics of the model works with larger produce too.

On the first point every operator insists they can now price-match any supplier. "We don't want to produce food that is inaccessible," insists Rebecca Haders, VP of the creative and marketing department at 80 Acres Farms. "If you're trying to sell a $10 head of lettuce it's not going to work. It's a cleaner, fresher and higher-quality product than a lot of what's in the market but you can't make it so overpriced that people don't buy it."

On the second, they all say that a wider range of produce is on its way. "Most people grow salad leaves because they're higher-value products, which helps with the cost of system," says Lloyd-Jones. "As the systems mature the price point will change. We can see it having economic viability in the next five to 10 years for other produce, like a root vegetable."

It's already happening on a smaller scale. Working in collaboration for years ahead of the Ocado deal, Priva and 80 Acres Farms have built the world's first indoor vine crop room, producing cucumbers and tomatoes for more than two years, with a new facility just finished that can multiply output by 10.
"As the systems mature the price point will change. We can see it having economic viability in the next five to 10 years for other produce, like a root vegetable"
And it's against the backdrop of developments like this that Ocado's interest has been piqued, along with a flurry of other investors.

"The noise has gone up significantly in the past six months," agrees Dring, who has seen interest from government departments, prospective investors and - as a result - the press. "A lot of people have been looking at this industry and the technologies behind it and the challenges we face in agriculture and it's coming more into focus. The industry has started to solidify and it looks like there's longevity in it."

From an investor point of view "over the years vertical farming has promised a lot but under-delivered," says Giles Hawkins, partner at Ashfords LLP, which advised Jones's major shareholder in the Ocado deal. "The economics didn't stack up. But in recent years, via development in LED technology, that cost has come right down." Now with certainty of yield "if you're sitting on a warehouse and through technology you know every two weeks you'll have a yield of X - which is far more certain than normal farming - you can leverage that".

So is this really the future of food? Could it really rival traditional agriculture? For Oshima at least this is a $2.4 trillion opportunity. "Long term there's always going to be a place for field farming, but what we're doing is helping foster innovation that can transfer to the broader agricultural community overall."

"In 10 years it may look to overtake greenhouse growing," believes Lloyd-Jones. "Greenhouses use a lot more land and are a lot more labour intensive. Vertical farming is more sustainable and closer to the customers."

For Wallast it isn't a panacea. But it is an important part of the equation. "It's a really good stepping stone for a more sustainable future. But we should also be a bit cautious in calling this the answer to the burdens on food sustainability. It's part of the solution, it's not the whole thing."
Five more deals that could propel vertical farming into the mainstream
1. InFarm
Only a day after Ocado announced its £17m investment, it found itself eclipsed somewhat by news that German firm InFarm had raised $100m in private equity.
InFarm specialises in small modular units that can 'plug into' existing infrastructures, such as supermarkets, restaurants and bars. This approach allows it to integrate crops into the smallest urban spaces and slash food miles.

One 80 sq m farm opened in a Paris grocer last year has an output of about four tonnes of fresh herbs per year, with variables such as heat, light and water controlled by InFarm via a centralised platform. Already the company works with 25 major retailers, running 200 in-store farms.
2. Plenty Inc
In 2017 Softbank Vision Fund, the tech investment vehicle helmed by Japanese billionaire Masayoshi Son, announced a $200m investment into indoor farming startup Plenty - a record-breaking deal in agri-tech. It followed investments by Amazon's Jeff Bezos in the firm.

Founded by CEO Matt Barnard, the Silicon Valley startup operates a handful of farms in the US already, with its biggest facility to date opening this month. The San Francisco site can reportedly grow one million plants at any time, or 200 plants per minute, in an area roughly the size of a basketball court.

Armed with these funds Plenty has international aspirations too, opening its first farm in the Middle East in 2018.
3. Bowery Farming
In late 2018, Google's venture capital arm GV led a $90m Series B funding round in two-year-old US firm Bowery Farming - bringing the total raised by the startup to more than $100m.

Already supplying Whole Foods Market and restaurants in the New York area with its produce from two indoor farms, the company has said it will use the new capital to build "multiple farms" and scale its operation across the country.

Its produce currently focuses on high-end herbs and salads, such as butterhead lettuce, kale and seasonal blends.

Its branding makes much of the absence of pesticides in its produce, as well as the need for lower-impact foods that use significantly less water and land.
4. Intelligent Growth Solutions
Though not quite on the scale of some US ventures, Scottish vertical farm company Intelligent Growth Solutions attracted £5.4m in Series A funding earlier this month.

Unlike many in the field, the company focuses on selling tech that can mitigate some of the challenges of other indoor farms, namely a 'plug and play' vertical farming technology that helps makes production more efficient.

The investment will help it to develop new roles in software development, engineering, robotics and automation, says the company, which will in turn allow it to increase product development and expand reach and customer support to three continents.
5. LettUs Grow
Set up in 2015 'to tackle some of the greatest challenges facing the world today', LettUs Grow creates modular aeroponic systems, which remove the need for a growth medium at all, and therefore make indoor farming more efficient and more profitable, it says.
In January, the firm received a cash injection of £1m - including a little under £400k from Innovate UK - to help it develop that tech.

Rather than operating farms itself, the company sells these aeroponic systems to third party businesses, including a complete solution for 'beginners'.

In March it emerged Waitrose was in talks with the company to install these in-store farms in its urban locations.
Hydroponics, aquaponics and aeroponics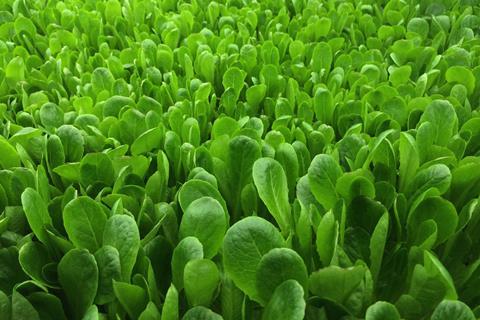 All vertical farms aim to use less space, less water and (nearly always) no natural sunlight to grow crops, but within that are three distinct approaches.

Most established is hydroponics. This is a system that substitutes soil with a nutrient-rich water-based solution. Options include perlite, rockwool, clay pellets, or peat moss, among many others.

Though space-efficient and more water-efficient than traditional farming, hydroponics still has its critics. Namely those that say by submerging plants growers are wasting water, and not achieving the best yields. From that has emerged two alternate approaches.

First off is aeroponics, which replaces water with a nutrient-rich mist that plants absorb through their roots and which uses less water. Adopters, such as AeroFarms and LettUs Grow, say it allows crops to respire "optimally" with the latter saying the switch in approach from hydroponics has led to a 70% increase in yields.

A lesser known alternative is aquaponics. This approach adds fish to the water-based growth medium, creating a symbiotic relationship in which the plants feed on the animals' waste, and the plants clean the water for the fish. The advantage is a relatively closed-loop system that can be used to farm both vegetables and fish. The technique is less common and smaller scale than the two other approaches, but proponents say it is emerging as a strong contender.