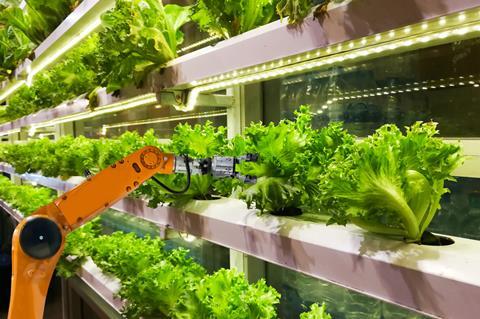 Ocado could have 10 vertical farms up and running within a decade, the company's CFO Duncan Tatton-Brown has said.

The farms enable indoor crop production on a series of levels in a precisely controlled environment. Tatton-Brown's comments followed an Ocado announcement this morning of a £17m investment in vertical farming companies.

Tatton-Brown said there could "quite feasibly" be 10 new farms or more up and running within 10 years. "I don't want to say that's the target because it might be far too low," he added.

Ocado has formed a three-way joint venture with two vertical farming technology companies, Netherlands-based Priva and US-based 80 Acres. The online supermarket has also acquired a 58% stake in Europe's largest operating vertical farm, Jones Food Company, based in Scunthorpe and currently supplying Greencore.

The goal is to locate vertical farms within or next to customer fulfilment centres, including the one supplying Ocado Zoom orders from west London, so that produce can "be delivered to a customer's kitchen within an hour of it being picked", according to Ocado CEO Tim Steiner.

Tatton-Brown said a new farm could be built in "less than a year".

But he said Ocado would work with Jones Food, which uses a robot to move produce in its facility, to further develop the technology first.

"We will work with Jones Food to see whether some of the Ocado expertise and technology might improve on its operation."

Tatton-Brown said the aim was also to sell vertical farming to retail partners internationally, along with Ocado's automated CFC technology.

"There are two investments today. One is about developing and ultimately selling vertical farming solutions to clients around the world," he said.

Ocado also wanted to "work with Jones Food to sell the food it produces on Ocado.com".

Tatton-Brown said there were "clear advantages" of vertical farming for the environment and consumer, with the guarantee of "fresher and tastier products all year round".

"We believe our investments today in vertical farming will allow us to address fundamental consumer concerns on freshness and sustainability.

"We foresee a day when customers' vegetables are harvested hours before they're packed, metres from where they're shipped." It was possible because of the "flexibility of the locations of the farms", which could include sites near populations centres.

Claimed environmental advantages of vertical farming include low wastage, low water use, less land use than conventional farms, predictable yields and no pesticides. Jones Food's farm uses renewable energy produced on site in Scunthorpe.