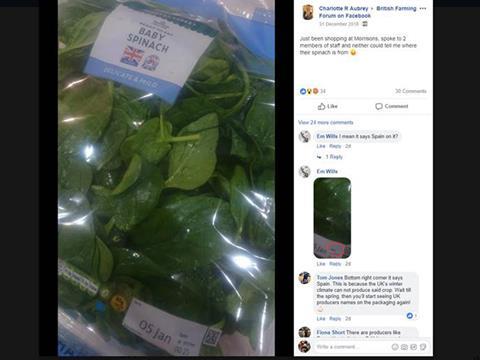 Morrisons has apologised after conflicting labelling caused confusion over the provenance of its spinach.
Morrisons' Market Street baby spinach packs bearing the Union flag and Red Tractor logo caused outrage on social media after eagle-eyed consumers spotted that the same packs were also marked as containing produce grown in Spain.
Consumers vented their frustrations, claiming in-store staff 'didn't seem bothered' by the discrepancy and two staff members had been unable to resolve queries about the product's origin. Meanwhile, another bemoaned the fact he had failed to garner a response after contacting Morrisons and Red Tractor on Twitter.
However, Facebook user Rob Rob later reported seeing the shelves cleared of the mislabelled packs, shortly after he had brought the issue to the attention of store management.
"We apologise to our customers as some of our bags of baby spinach were recently packaged incorrectly," said a Morrisons spokeswoman.
The British spinach growing season usually ends in October, seeing the UK source from warmer climates until the next UK crop is ready for harvest in May.
The Co-op has previously fallen foul of the same hazard, coming in for criticism from farming groups in 2013 after mistakenly labelling Spanish little gem lettuce as Red Tractor assured.