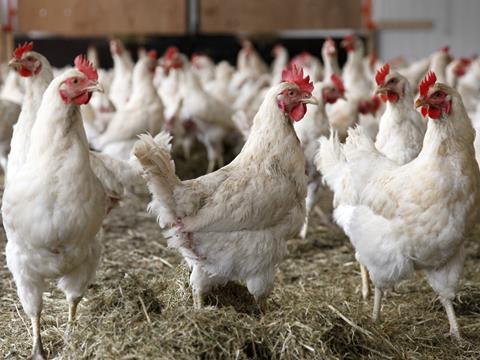 Morrisons has announced it will launch an "affordable" range of high-welfare poultry from early next year that will meet the criteria laid out by the Better Chicken Commitment.
The retailer said it would work with its farmers to introduce a new breed of slower-growing Redbro chicken to the UK as part of the launch. It will also work with Compassion in World Farming, its farmers and chicken breeders to monitor and create a standard for raising the birds.
The Better Chicken Commitment is a Europe-wide scheme backed by animal welfare groups that advocates a range of measures to improve bird welfare and raise baseline standards by 2026. These include the adoption of slower-growing breeds, increasing levels of light and play areas, giving birds more room to roam inside barns, and using more humane stunning methods.
Morrisons' move follows the launch by Tesco of its RSPCA Assured-Room to Roam chicken range last April, which also meets the requirements of the BCC.
But despite its plans to follow the scheme's criteria with its new range, Morrisons – like Tesco – has not signed up to the BCC, leaving Waitrose and M&S as the only major UK supermarkets to have committed to the scheme, though a number of major foodservice operators such as KFC, Greggs, Nando's and Pizza Express have signed up.
Morrisons said it went beyond the BCC last year by "requiring that all birds were born in the barns where they would be raised, removing any stress caused by early life transportation".
In keeping with the scheme's principles, the retailer also introduced extra daylight and perches into chicken barns over five years ago. "Morrisons also agrees that birds need room to roam in their barns and be free to express normal behaviours – like wing flapping, scratching and dust bathing," it added.
Morrisons' bespoke chicken welfare standards already included providing ample water and food; a balanced and varied diet; having a stimulus-rich, safe and comfortable environment; allowing birds to able to express natural behaviours; and enabling birds to explore, forage, and interact with one another, it said.
"Improving animal welfare is very important to customers and it's very important to us," said Morrisons head of agriculture Sophie Throup.
"We want to support the Better Chicken Commitment by starting right back at the farms and breeding birds specifically to launch a dedicated range. This is on top of the higher standards of chicken welfare we already have with our farmers," she added.
"We are pleased to be working with our farmers and Compassion in World Farming as we develop our new higher-welfare but still affordable Better Chicken Commitment range."