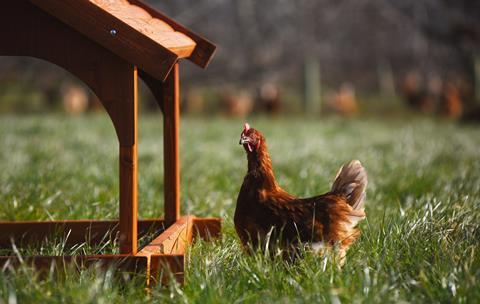 British companies have topped the class in animal welfare, making up four of the five businesses to achieve the highest ranking in a new report by the Business Benchmark on Farm Animal Welfare.
Happy Egg Co owner Noble was the sole new entrant to the top tier of BBFAW's report, published this week. It now ranks alongside Marks & Spencer, Waitrose, Cranswick and Co-op Switzerland. Waitrose has achieved Tier 1 status in the report annually since 2014, while Cranswick hailed its third year at the highest ranking.
The study is a collaboration between Compassion in World Farming and World Animal Protection, with the ranking compiled from a survey of retailers, manufacturers and restuarants from around the world.
One of its main focuses was on the animal housing systems used by food businesses and their resulting antibiotic usage, with the 2018 report revealing UK companies were significantly ahead in farm animal welfare. They scored on average 61% in its benchmarking criteria, compared with 28% for North American companies and 34% for countries from Europe, excluding the UK.
However, "this position could be undermined by Brexit if existing welfare legislation is not retained in the UK", said Compassion in World Farming CEO Philip Lymbery.
"Conversely, Brexit could be an opportunity for the UK to get even further ahead if the government were to make its own animal welfare legislation, for example, by introducing a ban on caged egg production (as is the case in Germany) and banning live exports for fattening and slaughter."
'Lack of knowledge and customer willingness to pay remain the key barriers to food companies adopting higher standards,' the report said. 'In our 2018 survey of how companies use the Benchmark, 82% of respondents identified customer willingness to pay and the absence of a compelling business case as a barrier to implementing higher standards of farm animal welfare.'
Danone, Whitbread and Morrisons climbed the welfare rankings, while Walmart, Danish Crown, Subway and General Mills all slipped down a tier.
Despite more than half (51%) of the 150 companies surveyed now reporting some animal welfare performance data, it was often hard to assess how effectively policies were implemented, BBFAW claimed.
The report said: 'It is often not possible to understand how companies are translating policy commitments into action, nor is it possible to get an accurate picture of the welfare impact'.
Noble Foods MD Veli Moluluo welcomed the company's entry into the top tier of animal welfare, which demonstrated an "ongoing commitment to drive improvements and deliver best practice when it comes to clear, transparent reporting", he said.
Duncan Sinclair, agriculture manager at Waitrose, said: "We've pioneered high animal welfare practices for a long time and our view is that good animal welfare and good business go hand-in-hand. Receiving this accolade is a credit to the hard work that is undertaken across our supply chain on a daily basis, not to mention the close relationship we have with our farmers and dedicated suppliers who ensure the high standards we expect are maintained."
Cranswick CEO Adam Couch added: "Farm animal welfare is a cause that is close to our and our customers' hearts and therefore we have made it a priority for our business with an unstinting focus on driving up standards."