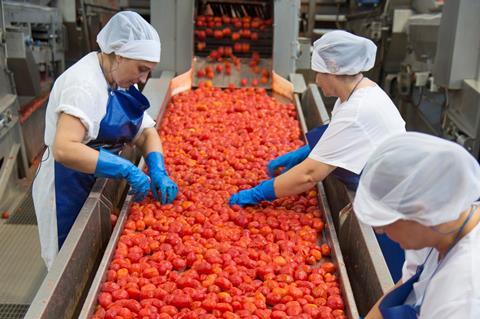 Princes has extended and deepened a partnership with Italian agricultural association Coldiretti, by committing to paying its tomato growers a "fair price" significantly above the market rate.
The new, three-year agreement for tomatoes sourced and processed via Princes' Napolina brand builds on an existing partnership with Coldiretti established in 2019. Supported by Oxfam Italy, it will seek to further enhance the ethical, environmental and economic value of the Napolina tomato supply chain and its network of growers in the Italian region of Puglia.
The deal involves a commitment from the group's Italian tomato processing business, Princes Industrie Alimentari (PIA), to sign guaranteed three-year contracts to "enhance financial stability for Coldiretti growers".
It will also work with the University of Foggia to ensure tomato pricing "reflects the true costs of growing and harvesting to enable the long-term sustainability of the industry", Princes said.
PIA MD Gianmarco Laviola expected the real cost of producing tomatoes in a sustainable manner in the region was up to 20% higher than the current market average.
"We can't talk about sustainability if the supply chain can't stand on one leg [financially]," he told The Grocer.
The agreement will also incentivise growers to "drive innovation" through new initiatives and technology to tackle the sector's impact on the environment.
These include satellite surveys to monitor the development of crops and to tackle climate change, as well as precision control equipment to reduce the use of chemical fertilisers, herbicides, and non-biodegradable plastics, alongside waste and water management projects.
Training will be provided for farmers and technicians of partner farming co-ops, while the contract also places a strong emphasis on worker welfare.
With the guidance of Oxfam, Princes was "investing to support the fight against exploitation practices, such as the 'Caporale' (gang-master) system", in a move that would strengthen transparency and allow Napolina to ensure a 100% ethical product, it claimed.
This would be achieved by empowering co-ops through monitoring processes and fieldworker training on agronomic practices, alongside developing good labour relations practices, as well as developing technology regulatory compliance and safety support.
In addition to guaranteeing a price that reflected the "real cost of growing a tomato", PIA had also committed to notifying growers of their price at the start of the year, rather than in June or July (as done by the rest of the sector, just before the harvesting season), added Laviola.
"By that point, the only way a grower can make savings [based on the price paid to them] is by reducing labour costs. By informing them early in the year, they are able to better plan their investment," he said,
Princes' 2019 partnership with Coldiretti was "ground-breaking in itself", said the supplier's group director for Italian products Andy Hargreaves.
"But we have moved on further. The shared commitment with Coldiretti and our suppliers to maintain high environmental standards, reinforce ethical working practices and promote fair economic conditions is a significant step forward in protecting the future of the Italian tomato supply chain. There is no Italian tomato product on British shelves that has anything like the level of supply chain assurance behind Napolina."