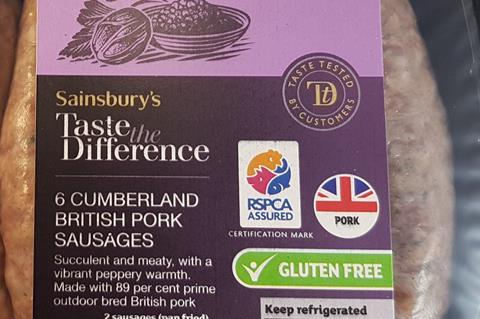 The number of food products carrying the RSPCA Assured label grew by 52% between 2016 and 2020, new data from the accreditation scheme has revealed.
The scheme now has more than 1,100 accredited product lines, while the number of animals farmed under the scheme rose by 63% between 2015 and 2020, from about 15.9 million terrestrial animals in 2015 to 25.9 million in 2020.
This equated to almost 12% of the UK terrestrial farming market for the species covered by RSPCA Assured, while the majority of all Scottish salmon farms were also also now under the scheme, it said.
Following Freedom Food's rebranding to RSPCA Assured in 2015 – which was undertaken to increase the scheme's visibility to shoppers – the label was now recognised by 64% of young professionals and families (its target market), it added.
This was more than three times the awareness level of 19% measured when the new logo first launched in 2015, vastly exceeding the charity's expectations. General consumer awareness had also continued to increase from 15% in 2015 to 58% today, the scheme said.
"Despite an incredibly turbulent 12 months, fraught with the challenges of Covid-19, avian influenza and Brexit, these results show that the trend for ethical food is unwavering," said RSPCA Assured CEO Clive Brazier.
"Consumers are standing firm by farm animal welfare even during the toughest of times, which means the future is looking very promising for higher-welfare farming."