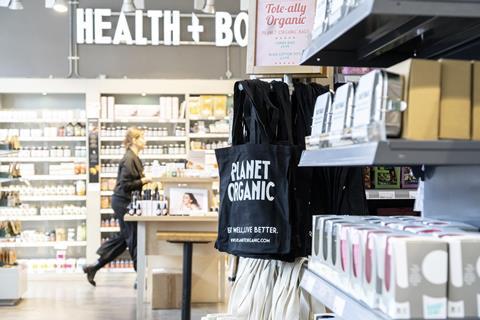 Planet Organic is expanding its partnership with Deliveroo, having introduced more of its range to the platform.
The specialist retailer, which started working with the rapid delivery company nearly two months ago, added more health and wellness lines to its range on the Deliveroo app last week after noting demand for products such as vitamins and supplements.
The current Planet Organic range available on Deliveroo stands at around 300 products across a wide variety of categories but it is "expanding every week", the retailer said.
Ten of Planet Organic's stores are currently involved in the Deliveroo partnership, with the remaining three branches due to be onboarded in the coming weeks.
"We see our Deliveroo channel as another way to be wherever our customer wants us to be," Planet Organic's CEO George Dymond told The Grocer.
"We make our hot and chilled foods from organic ingredients with no chemical additives, fresh every day in small batches in our central kitchen, so getting these meals to more people we think is fantastic."
Dymond said that whilst the partnership with Deliveroo was a convenient way for many customers to quickly access Planet's products, rapid delivery was not necessarily a key area of expansion as the company was more focused on its range, particularly in terms of innovation, NPD and championing smaller businesses.
The chain of organic supermarkets also offers over 5,000 products online and delivers nationwide through a partnership with DPD. Prior to the Deliveroo partnership, Planet worked with luxury home delivery platform Supper.
Planet Organic recently announced it was opening its first distribution centre in Sunbury-on-Thames in a bid to make its supply chain and logistic operations more efficient and sustainable, as it gears up for the estate expansion.
Until now, individual suppliers made daily deliveries to each store across the capital.
Dymond said the new warehouse was also going to support the growth of its e-commerce business. Around 10% of total sales were now online, he said.
Planet's investment in online comes after the pandemic badly hit trading at its central London shops. Its Tottenham Court Road store was shut for about a year.
The company is eyeing both bricks & mortar and online expansion as part of its wider plans to grow the current estate into a 50-store chain by 2025.
Dymond did not reveal how many store openings were planned for the second half of this year, but long-term estimates point to 22 new openings in London and 15 across the south west of England throughout the next three years.