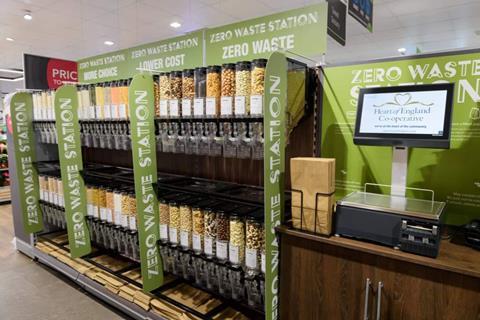 Convenience retailers are showing renewed interest in packaging-free refill stations after the coronavirus crisis stalled the rollout of such fixtures.
Gary Kemp co-founded Zero Waste Refill Hub just before the first national lockdown last year but he said c-store operators curtailed their interest once the pandemic hit, primarily around concerns of cross-contamination.
A number of leading retailers have pushed ahead with installing the stations in recent months and Kemp said enquiries from convenience operators were up 60% this month.
"When we came out of the initial lockdown, it gave retailers confidence to keep the momentum going," he explained.
"Retailers are planning the future of their stores, and the switched-on retailers are always looking to add to their business."
These included South Wales-based Nisa retailer Filco Supermarkets, which installed its first packaging-free dispensing station on 5 February.
The retailer said it had plans to introduce the station for some time, but the arrival of Covid-19 meant it had to prioritise store space for grocery.
"We're excited," said Filco MD Matthew Hunt. "This is part of our sustainability drive and the overall package we're trying to promote."
Read more:
Fellow Nisa retailer LA Foods also installed a hub earlier this month at its new 3,000 sq ft store in Deansbrook, Edgware and has described it as a "real talking point" for shoppers.
Kemp explained the business is currently focusing on the dispenser-type refill station for retailers rather than scoop bins, because they're self-sealed and no one can touch the food.
"It helps give retailers faith in us," Kemp said. "We train staff on how to use it, all the dos and don'ts, and how to manage it because of cross-contamination and traceability issues."
Heart of England Co-op also introduced the refill stations across its Allesley and Wellesbourne sites in the summer last year, and its Earlsdon site in October.
"Over and above anything else from a conceptual perspective that we have added to stores, this is the thing that gets our customers talking," said Heart of England Co-op food general manager Steve Browne. "They are being used well, even despite concerns around usage during Covid, and we will be adding more into stores as and when time allows, post the passing of the current situation.
"We have added sanitation units near the packaging-free zones to provide consumer confidence. Not only do these fit within our desire to drive a more sustainable future, which is one of our operating mantras, but these are also useful during a recession as customers can buy as much or as little as they like."