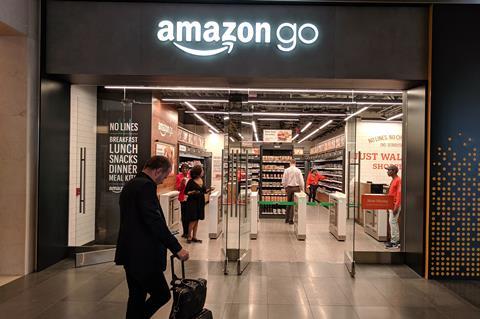 Recently I had the chance to visit the Amazon Go Brookfield Place store in downtown New York. I knew in advance I wouldn't be able to enter without scanning an Amazon Go app code, so I downloaded the app from a link I'd been sent.
All in all, the registration process took about seven minutes – not too bad in a shopping centre, but I could imagine it would be a hell of a faff outside, in the rain.
From then on, however, as a technological experiment, it was completely faff-free. I observed people doing stuff on their phones, walking in, grabbing two items and walking out, without breaking concentration or step.
Congratulations, Amazon: 10 out of 10 for technology. I have seen the future. (Alright, I ignored paper shelf-edge labels.)
Small but well formed
For store design, I give it seven out of 10. It's a small store, maybe 1,000 sq ft, planned in a very straightforward horseshoe, with shelving around the perimeter and an island fixture in the middle. All fixtures are full height, but not too high.
Having no cash registers significantly simplifies the layout. I found it clean and tidy, with decent signage. But the lighting left a bit to be desired: not as good as some, but better than many. Early examples of Tesco Express in the 1990s and Walmart Locals in the 2000s were nothing like as well designed, to name but two.
For products and product range, I give it just two out of 10. Please tell me this isn't the future. I think the sushi must be quite good, so kudos for that. But everything else was either boring or flat-out bad.
Perhaps the funniest piece of merchandising I saw was a peanut butter and jelly sandwich merchandised flat, one high and two deep. I have seen letters in a postroom look more appetising. Having said that, overall the merchandising is orderly so the cameras can work and it doesn't suffer for that.
But I didn't spot one product I wanted to try. There are a few judiciously chosen brands. It's a lunchtime store with a few, and I mean a few distressed, convenience items. When I say 'distressed,' I mean the sort of feeling that comes with bereavement or divorce. So, hopefully not too often.
It's not a 'dinner-for-tonight' store, which might be a bit of a miss: there's a bit on your left-hand side as you walk in, a range of three brown boxes with a colour photo… and an $18.99 ticket? Would you buy a $20 meal you couldn't see from somebody you didn't know could cook?
In pictures: Amazon Go store in New York
Click on 'show caption' to see Tim's commentary
I was also amused to see plastic-lidded recipe dishes with condensation so thick you could not see what was in them. Jeff Bezos may send a man to space, but I fancy this law of physics will see him off like it has the rest of us. There was no inspiration, nor promotion to speak of.
My only purchase was a bottle of 365 water, which is a Whole Foods Market budget brand, and I noticed some prepared fruit items also under the same Whole Foods brand.
Overall, it's brilliant and poor at the same time. Brilliant for technology that is moments-old and poor for food retailing, which is millennia old. If we end up living on bars and tablets, Amazon Go has got it nailed.
But, wait. Doesn't Amazon own Whole Foods? If I had seen a 'Whole Foods Go' with that technology and Whole Foods merchant skills, I think I would have said, "we are all doomed". It would be the best new small store format in the western world. But I didn't.
Amazon are brilliant technocrats, but also just human beings managing a takeover, for good or ill, like every other business acquirer in the history of the world. The question is: can it leverage the opportunity to get '1+1' to equal three or 1.5? Place your bets and watch this space.