A few years ago, the outlook for LED lighting was dim. Eye-wateringly expensive, lacking backing from the major electronics companies and loathed by commercial teams for turning their food a ghastly shade of grey, it looked like the lights might go out on LED altogether.
Times have changed. And this week The Grocer, backed by several of the biggest retailers as well as leading environmental groups, is putting LED at the heart of a major new campaign called Switch the Lights, to spark an energy revolution across UK retail.
So why are we doing this? First, the falling cost and dramatic improvement in the reliability and performance of LED means the technology is now a viable solution with a payback of as little as a year. Second, the soaring cost of energy consumption. It's doubled in the past decade. It's set to double again (at least) in the next. And shops use a lot of it, sucking up about 10% of the National Grid, according to statistics compiled by the Department of Energy & Climate Change in July 2014.
Lighting accounts for a whopping 43% of that. So whether your focus is on cost or climate change, experts are warning that you can't afford not to take advantage of the advances in LED.
10 things you need to know about LED
1. They cost more: The typical cost of a good-quality 600 x 600 fluorescent unit is about £90 - poor-quality units could be much cheaper. The cost of a good-quality LED alternative is typically £125, ie 40% more.
2. But they are no more expensive to install: A rule of thumb is that installation per LED or conventional light unit is about the same as conventional lighting unit cost (ie: about £90 to £100).
3. They save energy: For grocery stores, energy savings vary from about 10% in a supermarket through to 50% in a local grocery store. These are The Carbon Trust's estimates, which it describes as 'conservative'.
4. Other types of retailers can benefit too: Department stores will typically use a mix of general lighting (fluorescent tubes, CFL downlighters and tungsten halogen display lamps) - so overall savings would be in the 30% to 50% range.
5. LED is more efficient: Since 2007, there has been a four-fold increase in lighting efficacy. Modern LED units are capable of delivering efficacies over 20% better than existing conventional lighting.
6. LED is better than it was: Teething problems have been resolved. The colour and warmth of white light produced, as well as the colour rendering, has improved year on year since 2007 and is now considered by many to be better than conventional lighting.
7. It lasts much longer: Tests by The Carbon Trust showed that, at 6,000 hours, the overwhelming majority of LEDs tested were within the expected performance range.
8. They slash carbon emissions: New LED units have the potential in the UK to reduce carbon emissions by more than 1 million tonnes over the next three years.
9. They slash electricity bills: New LED units have the potential to reduce electricity bills by more than £300m over the same period.
10. A warning: When LED units are used as part of a poor lighting design, the lighting solution may actually consume more energy than the alternative conventional lighting. Don't put the cart before the horse.
Big bang
The BRC says the annual lighting bill for UK retailers in 2013 was £1.2bn and, in a new report, predict the overall annual energy bill for retailers will soar to a staggering £6.9bn by 2020. Unless something is done.
"Achieving a 25% energy reduction would be worth a massive £13.2bn in cumulative savings over five years," says Andrew Bolitho, BRC energy policy adviser.
Meanwhile The Carbon Trust, one of the organisations backing our campaign, estimates that lighting accounts for about 75% of the 41 million tonnes of Co2 generated each year by UK businesses. If all businesses switched to LED, the amount of Co2 they generate would, at a stroke, be reduced by an incredible 80% - a situation it describes as the energy efficiency equivalent of "the big bang".
Yet despite increased evidence of potentially huge gains like these, a long line of retailers are still sticking with outdated lighting technology, eating a massive hole in their profits, and the ozone layer, alike.
The culprit is more often than not the bog standard 60cm by 60cm square lighting panels above shoppers' heads, which contain four energy-sapping 36-watt fluorescent tubes, generating a combined 144 watts - four times more than an average LED. Halogen lamps are no better. A typical convenience store using 10 to 20 50-watt halogen lamps in a window display is the equivalent of boiling a kettle non-stop. So why the reluctance to switch?
"There has been a big conflict between the energy managers in businesses and the retail side of the business," says an industry source. "On the one hand, we have this technology that can save enormous costs in lighting but there is a concern that it doesn't show off the product well. A lot of the earlier experience in the supermarkets was bad because there was a general feeling that it made the food look grey. That's not the experience customers want. Fashion retailers were also negative. Performance has now moved on massively, but that is the backdrop we are talking about and the reason why this revolution hasn't happened before."
A new dawn
It is happening now, though. It's a "new dawn", suggests Paul Huggins, associate director at the Carbon Trust. "Until now I think we would have said the right solution could have been LED or other upgraded or eco-friendly conventional bulbs that are non-LED. However, we have now reached the tipping point where it's clear that LED is the solution and it's very important that retailers get behind it."
Compact Fluorescent Lamps
Some businesses have already invested in more efficient lighting using alternatives to LEDs, such as compact fluorescent lamps (CFLs).
However, the return on investment may take longer than the predicted 12-month to two-year payback of LED. The amount of efficiencies also varies between retailers having a fully-fledged replacement of lighting systems and others using retrofit LED systems, which the Carbon Trust says can lead to lesser (albeit still pretty big) energy savings.
In short, more efficient lighting is obviously the way forward. But to maximise savings, LED is the way to go.

M&S head of Plan A facilities management, Munish Datta, is a big supporter of our campaign. He describes LED as the "single most important innovation in store sustainability programmes to date." And crucially, the financial case for LED is becoming increasingly commercially viable, he adds.
"Our view is that businesses should be making decisions on a whole life basis, not simply up-front capital costs," he says. "Ultimately the main barrier to small businesses investing in LED lighting is the initial cost. However, if the demand is increased through higher business uptake, then costs will go down."
They already are. The plummeting price of LED in the past two years has seen the cost of an average LED spotlight fall from £16 to under £6. (The Carbon Trust predicts it will go down by a further 50% in the next two years.)
Not all LEDs are equal
Over the same period, the quality and performance of LED has improved beyond recognition. Since 2007, the Carbon Trust reports a four-fold increase in lighting efficacy (the amount of light output for a given amount of electricity) in LED technology, though Huggins says it is important that any retailer does their homework on the provider concerned.
"The standard of product provided is important. Not all LEDs are equal in terms of life or lamp quality," he says. "Although there are some trusted names and robust reputations, clients are often bombarded by suppliers who have often just entered the lighting market. This creates confusion, which in turn can add to the inertia factor and provides an excuse for inaction."
As one source puts it more bluntly: "There is still a lot of sh**e that comes in which is very poor quality and the market is very poorly policed."
However, for those who do the research, maintenance costs can also fall. "With traditional lights, about 3% to 5% each year have to be repaired," says Huggins. "You could be talking about £1,000 to £2,000 at a time just repairing bulbs. With LED there is no such cost. You can literally plug them in and forget about them."
CFLS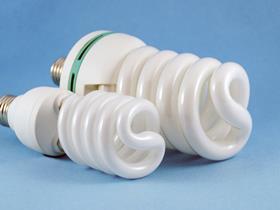 Other business have already invested in more efficient lighting, with other technologies such as compact fluorescent lamps (CFLs).
For them the return on investment may take longer than the incredible 18 months to two years payback - one of the major attractions of LED - achievable for those replacing older lighting systems.
The amount of efficiencies also varies between companies having a fully-fledged replacement of lighting systems and others using retrofit LED systems, which the Carbon Trust says can lead to less, albeit still pretty big, energy savings
LED chips powering the lights can give from 30,000 to 50,000 hours of life, 10 times that of older technologies.
But it's the huge cuts in energy costs that are the standout figure for those looking for payback from their capital investment.
"On average with the typical store you are looking at about £62 per light and an average of about 100 lights: that's £6,200 a year in energy costs," says Gerald Burke, sales and marketing director at Integral LED. "Fitting LED costs on average between £60 and £70 per light so the cost is about £7,000. You are looking at a return on investment which will be less than 18 months, or even in some cases less than a year."
There are also financial incentives such as the Enhanced Capital Allowance Scheme (which provides businesses with enhanced tax relief for investments in energy saving technologies). "So LED makes sense not just for big business but for all businesses," adds Datta.
Enhanced experiences
"Through making one change the opportunity to save money and protect the environment we live in is enormous, so change your lights," says Neil Sachdev, former property director at Tesco and Sainsbury 's, who now sits on the Advisory board of the Green Construction Council.
"All retailers have taken steps to reduce the amount of energy they consume and all have had some successes. There is a real opportunity to change the way we light our stores as LED has made a real step change in the way it works in general, mood and more importantly for retailers, in accent lighting."
New LED works as well in high fashion and food as it does to light car parks, adds Sachdev. "The truth is new LED lights show products at their best, even clothing, where some of the major concerns used to arise. This concern about performance is now a myth and we need to get over it. But the good news is many high fashion retailers are making the change."
Including M&S. "We see it as another tool to enhance our customers' experience, allowing us to directly focus light on the shelves and on our products, rather than traditional lighting, which is spread across the shop floor," says Datta.
"When it comes to energy efficiency LED is a no-brainer but once retailers start realising the potential benefits to the store environment, LED could take off even more," adds Bolitho.
Other converts include Tesco and Sainsbury's, who are both backing the Switch the Lights campaign.
"LEDs have been so successful at bringing down our energy costs - and improving our green credentials - that we're rolling them out across our entire estate," says Sainsbury's head of sustainability, Paul Crewe.
Sainsbury's will have fitted 100,000 LED lights in stores by the end of this year, saving 54.6 GWh of energy. And Tesco, which recently used almost a million LED bulbs for its Christmas TV ad campaign, has sought to spread the word, not just to other retailers, but to its supply chain, using its economies of scale to make huge savings for suppliers switching to the technology.
"The Tesco Buying Club has taught us a lot about LED lights," says Courtney Evans, a consultant at 2degrees, which spearheads the project.
"We currently have 23 companies that are set to save a total of over £500,000 on their electricity bills and about £110,000 in their maintenance costs annually. On average, each company is saving over £22,000 on electricity and about £5,000 on maintenance every year. We are talking about really big sums of money."
A recent workshop on LED held by the BRC in London revealed huge interest among companies in the potential of switching, with up to 90 different companies and consultants taking part.
"I find it hard to think there is any comparable product that compares to the savings LED can offer in any part of industry," says one consultant involved.
With that salient fact being the case, making the financial case to a CFO is a very different proposition from a few years ago. If LED lights turn out to be a great weapon for in-store theatre and experience, any doubts from the commercial teams should be well and truly extinguished too. So what are you waiting for? Have you seen the light?
Our big idea
The ultimate aim of The Grocer's Switch the Lights campaign is to accelerate the introduction of LED lighting across the whole of UK retail
This year-long campaign will seek to raise awareness of how LED lighting can deliver multiple benefits to retailers, the UK economy, and the planet
Switch the Lights will explore how the initial cost of LED lighting has fallen substantially in recent times, how the ROI period is shorter than previously realised, and showcase the enormous advance in the quality of LED lighting
It will provide expert advice on how to switch from existing lighting to brighter, cheaper and better LED lights, detailing options, sizes, costs, suppliers and contractors
We will seek the support of retailers, wholesalers , suppliers, politicians and environmentalists
We'll also look at how consumers and other businesses can switch the lights and save