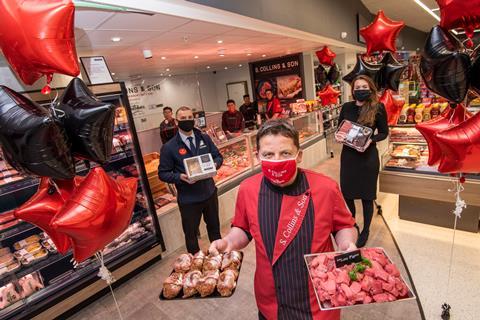 Scotmid Co-op has launched a new butchery counter in its Uddingston store in partnership with family butcher S Collins & Son.
S Collins & Son sources its Scottish meat live from market and butchers it in house. Including seasonal lines, it will offer around 250 products.
"We were looking to partner with an innovative business that could help us bring an exceptional product choice and service to our Uddingston customers," said Scotmid local sourcing manager Kirsty George.
"S Collins & Son will bring first-class knowledge and expertise along with a great selection of freshly-made local produce into the store and advocate the fantastic quality of Scottish fresh meat produce."
The counter will be run by S Collins & Son store manager Craig Lowrie, who has been with the business for eight years.
S Colins & Son owner Stewart Collins said: "Our new counter within the Scotmid Uddingston store will allow us to promote and share our fresh 'farm to fork' Scottish products with the local community and we are thrilled we can grow our business in partnership with a like-minded and innovative business like Scotmid.
"We can't wait to see what the future holds."
The counter will be open five days a week, excluding Tuesdays and Sundays.