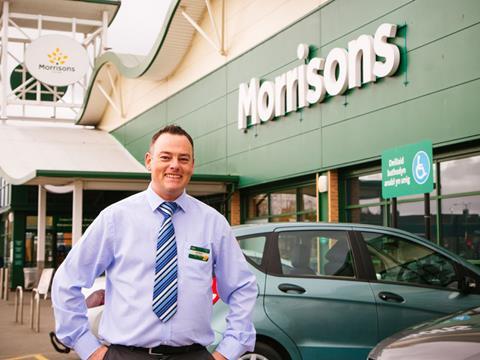 How does winning the Grocer 33 rank with other achievements since you started at Morrisons? I've been working for Morrisons for 25 years so it's been a great weekend overall. It's even greater as I was able to go to watch my beloved Manchester City beat United in the Derby.

Morrisons is running a Black Friday Comes Early event. Has that confused shoppers? We launched our Black Five Days promotion today (Wednesday 14 November). It's great that we surprised the market by launching a bit earlier. I've had a few people ask if it's Black Friday this week but it's still a massive driver of sales. We'll have more deals launching next week that even I don't know about yet, but the ones out already have landed really well. We've got a great deal on a gin advent calendar which is flying.

What do parents make of the new Morrisons kids range? We launched the full range of Morrisons Little Kitchen products this week and it's gone down really well. We've been selling a few of the items but now the full range is out and I think it's a no brainer. As a parent of a two-year-old, and someone who works long hours with a partner who is also in retail, I know that parents want food for their children which is not just easy to make but nutritious.I'm also a big fan of the packaging - it's very colourful.

Are the people of Wrexham going nuts over the new vegan range? The expansion of the whole free-from sector is one of the biggest changes since I've been a manager. One of the products I picked up just this morning was a new alternative chocolate chip cookie product and it looks fantastic.

What innovations have you made for Christmas? The colour coding aisles we've brought in for the seasonal aisle are a really good idea. Having products sorted in red, silver, gold and kids is a clever idea. This year we've seen a real increase in Christmas tree decoration sales. The prices are much better quality this year and compare very favourably with so-called more upmarket stores.

How are sales of local Welsh products going? About six weeks ago we brought in sales of individual eggs. I was wondering how it would go but it's been absolutely phenomenal and that's good for local producers. I joined this store on St David's Day last year and since then there's been a huge increase in the amount of locally produced products, across BWS, fresh foods and grocery. I would have to say the lamb is the best. It's a huge selling point.
Winner: Morrisons, Ruthin Road, Wrexham
Store manager: Andrew Whelan
Opened: 2011
Size: 35,500 sq ft Market share: 20.4%
Nearest rivals: Aldi - 0.1 miles, Iceland - 0.7 miles, Asda - 0.9 miles, Tesco - 1.5 miles
Store data source: Analysis by CACI. Call the market planning group on 020 7602 6000