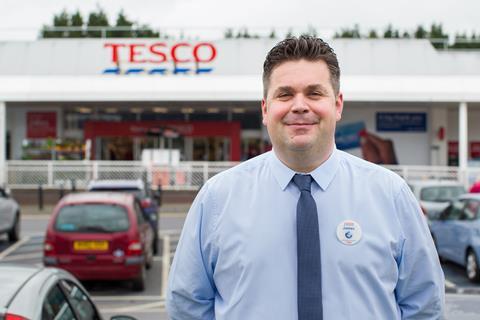 Winner: Tesco Kingsteignton, Newton Abbot
Store manager: James Sanders
Opened: 1982
Size: 55,000 sq ft
Market share: 25.7%
Nearest rivals: Lidl - 0.5 miles, Iceland - 1.7 miles, Sainsbury's - 1.7 miles, Morrisons - 4.6 miles
Store data source: Analysis by CACI. Call the market planning group on 020 7602 6000
Dave Lewis revealed plans this week to launch Finest stores. How does the Finest range perform in your shop? Generally good. We've got quite a lot of slightly older customers that have a little bit more disposable income and tend to go for those products. The Finest meal deal is quite popular.

We've had washout weather recently. How has this hit sales? It's a double-edged sword. In the south west we get a lot of holidaymakers and they tend to buy products like barbecue meat and barbecues. If it is raining there's very little to do outside so they tend to come shopping anyway and buy things for the kids or do a clothes shop.

How else do you encourage holidaymakers to splash their cash? We have an awful lot of outdoor toys, which we push in the summer. They're selling really well.

Availability was very strong. How do you stay on top of it? We have a really robust routine for filling shelves and maintaining product availability throughout the day. We monitor that through daily reports and we have focus meetings to review performance.

Our shopper spotted a few cracked floor tiles. Will you be doing any repairs? We have a 'wash and brush up' plan to decorate the store's interior and exterior. We're aiming to start the eight-week programme in early September.

She also described tinned fruit next to the hot deli as confusing. What's the reason for this? We are absolutely restricted by the layout of the store - it's 37 years old and has a lot of pillars and columns. We try to do the best we can. We are in the process of moving bits around to make shopping a bit easier for customers. The reason the tinned fruit is in a funny location is to accommodate the free-from lines - it's now seven shelves wide, which forced out the tinned fruit.