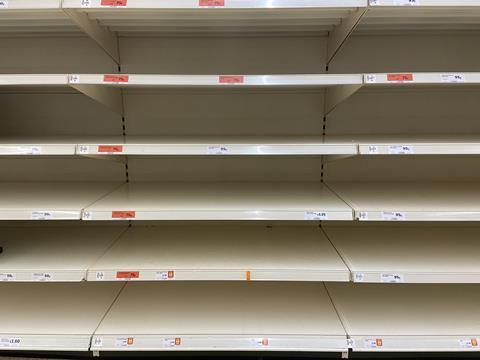 Adding extra items and visiting supermarkets more is driving shelf shortages, says Kantar

Majority of people do not think they're stockpiling

Food eaten out of home now channelled through supermarkets due to restaurant closures
The main reason supermarket shelves are empty is that people are adding a few extra items to baskets and making more trips, rather than buying large amounts of the same item in one go, according to Kantar.
The research agency found that just a small minority of people were engaging in what might traditionally be thought of as stockpiling. For example, 6% of liquid soap buyers have taken home extraordinary quantities, and only 3% of dry pasta shoppers.
Instead, many consumers are adding a few extra products each time they visit a store. Kantar found the average spend per supermarket trip rose by 16% to £22.13 in the week ending 17 March compared with the same week in the previous month.
Kantar's head of retail and consumer insight Fraser McKevitt said: "Most of us have seen images circulating online of people bulk buying products like toilet rolls and pasta, but our data gives us a different, if counterintuitive, diagnosis of what's happening.
"Ultimately we need to look at the empirical evidence and it tells us that temporary shortages are being caused by people adding just a few extra items and shopping more often – behaviour that consumers wouldn't necessarily think of as stockpiling."
Read more
He pointed out that people will also be eating in more as a result of restaurant closures, social distancing and increased working from home. "Consumers spend more than £4bn each month on food and drink out of the home, a significant proportion of which will now be channelled through the supermarkets."
Sales of toilet tissues rose by 60% year on year for the week ending 8 March 2020, while dry pasta sales were up 55% and baked beans by 48%.
Alongside supermarkets, health & beauty stores, bargain retailers and convenience stores all saw a rise in sales during the week ending 17 March, with trips increasing month on month by 25%, 29% and 19% respectively. Meanwhile, visits to pet stores went up by 27%.
Bruno Monteyne, a senior analyst at Bernstein, has predicted supermarkets will continue to benefit from coronavirus stockpiling, even as the country moves to lockdown.