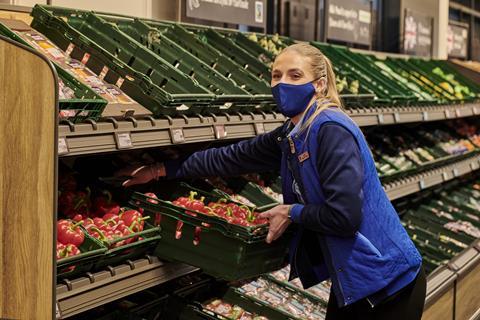 Aldi and Morrisons have become the latest major supermarkets to offer jobs for Ukrainian refugees.
Aldi said this morning it had 8,000 store and distribution centre roles available and would welcome applications from Ukrainian refugees subject to eligibility for UK employment.
"We stand by the people of Ukraine and want to offer employment opportunities for those seeking refuge in the UK," said Aldi UK recruitment director Kelly Stokes.
"By working with the government, partners and other employers, we hope to help as many people as possible and provide much-needed stability and security in their lives."
Morrisons said it had contacted the Home Office about jobs for Ukrainian refugees.
"Morrisons will welcome Ukrainian refugees with open arms," said a spokeswoman.
"We contacted the Home Office last week to offer any assistance we could through providing employment for Ukrainian refugees and we believe we could find good roles for many hundreds of men and women.
"The precise number would depend on where in the UK they settle but we will be able to offer large numbers of skilled roles such as butchers and fishmongers, various in-store roles, and roles in our UK wide manufacturing & logistics operations."
Meanwhile, Iceland has provided more detail on a commitment made by its MD Richard Walker in a tweet last week to fast-track Ukrainian refugees into depot jobs.
The supermarket told The Grocer it was committing to fast-track them from application to job offer within seven days, working with its logistics partner GXO.
The Sunday Times reported at the weekend that a group of more than 40 large businesses including Marks & Spencer were offering jobs for refugees fleeing Ukraine following Russia's invasion.
The coalition, co-ordinated by entrepreneur Emma Sinclair, is reported to be in talks with government over up to 10,000 available jobs.
Some 4,600 visas have so far been issued under the government's Ukraine Family Scheme, according to latest Home Office figures, issued at 4pm on 14 March.
Tweeting for a second time about Iceland's offer to fast track, Walker said on Friday: "I've been asked how this is going… I'm afraid to say that the reality is we haven't had many applications yet. But we are prepared, should the government make things easier to get into the UK."
I've been asked how this is going…I'm afraid to say that the reality is we haven't had many applications yet. But we are prepared, should the government make things easier to get into the UK. #Ukraine #VISASforUkrainians https://t.co/D1qGQh7zHj

— Richard Walker (@icelandrichard) March 11, 2022