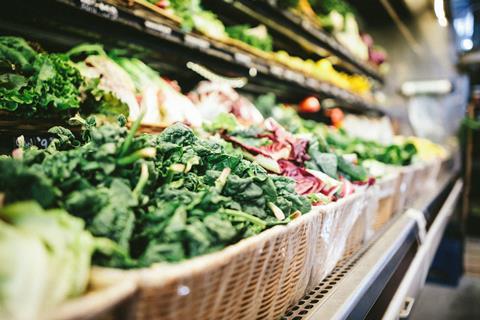 Supermarkets are to be told they should ditch plastic packaging from fruit & veg aisles if the industry is to hit its targets in the war on plastic, The Grocer can reveal.
It is understood an investigation by Wrap has found the move could lead to a huge reduction in the use of plastic film and other packaging,and that fears of a detrimental impact on food waste have been overblown.
Packaging of fresh fruit & veg is now set to be added to the list of "problematic" plastic targeted by the industry's Plastics Pact.
The move comes after a report by Wrap found the industry faced missing its targets on plastic reduction unless it seriously "ups the pace".
The update on progress on the UK Plastics Pact, which comes as the government consults on plans for a further crackdown on plastic, found signatories had reduced problematic or unnecessary single-use plastic items by 46% and reduced the amount of packaging on supermarket shelves by 10% in the period 2018-2020, saving 140,000 tonnes of carbon emissions.

However, progress had been slowed by the pandemic and also the cost of reformulating packaging such as polystyrene, levels of which had fallen by just 3% in the period covered.
Despite coming under huge pressure from the environmental lobby, supermarkets have enjoyed mixed fortunes when it comes to experimenting with the sales of loose fruit & veg.
Having introduced dedicated areas to buy loose fruit & vegetables to 63 stores in 2019, offering up to 127 loose varieties, Morrisons extended the reach of this range to 332 of its 497 stores in 2020.
However, in December 2019, The Grocer revealed Iceland abandoned a single-store loose produce trial after it led to a 30% drop in sales, according to MD Richard Walker.
Packaging for fruit & veg is one of 19 types of plastic that has been under investigation by Wrap as it decides which types should be blacklisted by the pact.
Wrap strategic engagement manager Helen Bird told The Grocer Wrap would now draw up a timetable for supermarkets to rid plastic from the veg aisles.
"The stark findings of our investigation are that there is an opportunity to significantly reduce packaging in fruit & veg.
"We don't think it will be able to be done overnight but what we are hoping for is a step-change.
"We need this to be driven by the supermarkets and we intend to come up with roadmaps for the supermarkets to align to, which will ensure a level playing field."
Bird admitted that some supermarkets had been seen big spikes in food waste upon trialling loose veg, but said it had proved temporary.
"What the supermarkets found is that when they initially switched, they undoubtedly saw some increases but that once they adjusted, they levelled out."
She also admitted that there were likely to be longer timeframes set for products that relied the most on packaging, such as soft berries like strawberries and raspberries, where innovative solutions needed to be found.
Wrap is set to work with online grocers such as Ocado to see how their picking and delivery methods can be adapted to take into account the step change.
Its research did not take into account pandemic-related fears many have had over loose fruit & veg. Last October, research for The Grocer by Harris Interactive found almost 30% of shoppers admitted to feeling less comfortable buying loose groceries since the outbreak.
However, Bird said the key to successfully recycling plastic in the veg aisles was in better education of consumers, with two thirds of waste still happening in the home, as well as allowing more flexibility in purchases.
Previous research by Wrap in 2018 showed single-person households wasted 34% more fresh fruit & vegetables compared with others This accounted for a whopping 33,000 tonnes of fresh produce waste a year, worth almost £80m, which could be massively reduced if they were able to buy more loose products, it said.