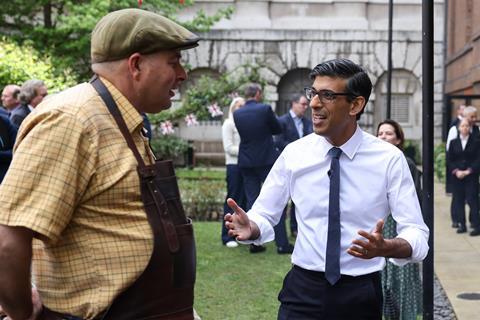 A leading analyst has accused the government of being "not fit for purpose" after it proposed a controversial system of price caps on food to tackle the cost of living crisis.
Clive Black, of Shore Capital, said the move floated by ministers to interfere in food prices had seen faith in the government in the City slump to the sort of levels seen during the brief reign of Liz Truss and chancellor Kwasi Kwarteng.
Supermarket and supplier bosses are understood to be fuming over the plans, which were leaked to the Daily Telegraph at the weekend.
The Grocer understands they were not raised at a meeting with chancellor Jeremy Hunt just days earlier, and the proposals landed only two weeks after supermarkets were urged to do more to support British farmers at a summit called by Rishi Sunak.
Black said the government's move, which comes after the Competition & Markets Authority (CMA) launched a controversial investigation into competition in the food industry, had shattered hopes of the Sunak era representing a new period of having "grown-ups in the room".
"We have had no faith in the likes of Eustace/Coffey/Spencer for years," he said in a note published today. "But mistakenly we thought Sunak and Hunt may be non-idiots, non-detached, non-delusional, and not totally incapable, unlike their Defra crowd. Alas, we were wrong."
The Grocer has learnt there have been what one source called "heated" discussions between industry bosses and the Treasury since the government's plans for a voluntary system of price caps, on products including the likes of bread and milk, came out.
Out of touch
"Not fit for purpose is an understatement of [the verdict in] industry boardrooms, and we have heard that loud and clear," said Black, who added that the choice of products mooted so far showed how out of touch the plans were.
"Bread remains an industry with oversupply and so actually lacking upward pricing power, whilst international dairy prices are amongst the first to fall in recent times, with price reductions already in UK supermarkets," he said.
"More to the point, dairy is a crazy product with which to loss-lead given the high costs, environmental and food safety risks and low margins.
"For the prime minister to be associated with such crazy thinking, well, this is the lowest of the low."
David Sables, CEO of Sentinel Management Consultants, also criticised the government's attempts to intervene in the market to tackle food inflation.
Writing in The Grocer he said,: "The government is attempting to put blame somewhere in its complete naivety of 'how it works'."
Ged Futter, founder of The Retail Mind, added: "You might have thought it was 1 April over the weekend with this story. It certainly should go straight to Jackanory. The government would like retailers to volunteer to put a price cap on essential foods to help reduce food inflation. Can anyone spot a potential flaw in this well-thought-out, highly researched idea?"