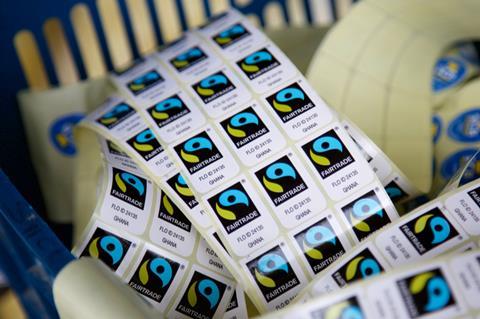 A new online Fairtrade-only grocer has launched to "fill the gaps" left by the collapse of sustainable retailer Traidcraft earlier this year.
We Are Fair Trade officially launched earlier this summer as an online retailer, but is only now expanding its range of goods, which include chocolate, cereal and jams, among other ambient goods, as well as cleaning products, homeware and clothing.
In addition to products carrying the official Fairtrade stamp, the company sells a range of other sustainably trade goods, from 'fairly traded' which does not carry the Fairtrade Foundation logo but adheres to the principles of fair trade – overseen by the likes of the British Association of Fair Trade Shops or the World Fair Trade Organization – and what CEO Mark Buchanan calls "ethically traded".
"I want to be a brilliant e-commerce shop window for all three of those categories", he told The Grocer, adding he found a gap in the market for a fair trade offering after the demise of sector pioneers Traidcraft.
Gateshead-based Traidcraft, which was owned by around 5,000 small shareholders, entered administration in February this year after struggling through Covid-19 and supply chain challenges for the past three years.
Buchanan, a business consultant with years of experience in e-commerce, was the company's interim CEO during its final eight months.
"I was on the board of Traidcraft right through till the end of its life after 40 years, so that was a major moment in the fair trade space, given that Traidcraft pioneered fair trade in this country.
"It was a significant loss to the fair trade community, and I could see that there was a business there".
Buchanan said the way the company was run in its final years meant "it was almost inevitable that it was going to crash" as it struggled to keep up with tech advancements and data-driven processes amid a tumultuous time for the industry.
"The fair trade space is a difficult balance between tremendous idealism and ruthless commercialism, and you can get that balance wrong on either side.
"But the fact is, if you're not making any money, it doesn't matter how ethical and how lovely you are. It takes profit to have any kind of principles."
Around 40 people lost their jobs when the company finally shut up shop.
Buchanan added he "felt we needed to do what we could" to carry on the Traidcraft legacy. His current We Are Fair Trade team is composed of four other former Traidcraft employees.
The company has also "fortunately inherited a large percentage of Traidcraft's loyal customers", he said.
"The level of loyalty that Traidcraft carried was absolutely massive," Buchanan said. "The customers are in it for the long haul and they are also very vocal about what we should and shouldn't be doing, which is good market intelligence."
The grocer's range currently sits at just over 200 products but the number is "growing quite rapidly as we bring on new suppliers", the CEO said.
We Are Fair Trade does direct-to-consumer delivery to the whole of the UK. Shipment is £5.95 or free for orders above £60.
The independent grocer is currently on a licence to occupy in the old Traidcraft building in Gateshead, where it will operate during the busier Christmas trading period. It will look to move elsewhere in the Newcastle area after the new year, Buchanan said.
"We launched during the quieter summer months so we could stress test all our systems before we the Christmas rush, which is just starting to build now.
"But it's gone better than I expected," he added, with We Are Fair Trade registering 15%-20% growth month on month over the past couple of months.
Buchanan said he would consider outside funding to scale up the business in the future.