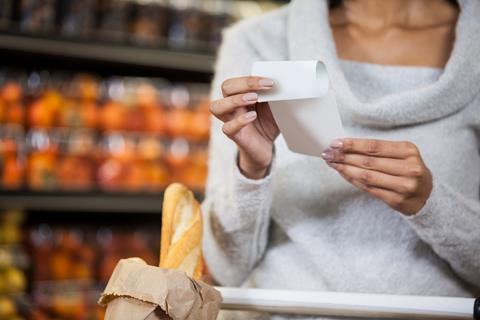 Supermarket and supplier bosses have vowed to fight any government plan to introduce a voluntary system of price caps on basic food such as milk and bread.
Retail leaders described the plans as "meaningless and ineffective" and said despite government claims to the contrary there had been no meaningful discussions between the industry and ministers about the plans.
Over the weekend, the Daily Telegraph reported the government had mooted a voluntary cap on some products, in an echo of measures already used in France.
The move comes weeks after the Competition & Markets Authority launched an inquiry into the competitiveness of UK supermarkets, amid claims they have been "profiteering" as hard-up shoppers face the worst financial crisis in decades.
Chancellor Jeremy Hunt met with industry leaders last week to discuss the crisis, but The Grocer understands there were no discussions about plans for price caps.
Figures from the BRC and Nielsen today suggested food price inflation had slowed to 15.4% in May, down from 15.7% in April
According to reports, supermarkets would be allowed to select which items they would cap.
Andrew Opie, head of food policy at the BRC, said the plans would "not make a jot of difference to prices".
Affordable
"High food prices are a direct result of the soaring cost of energy, transport and labour, as well as higher prices paid to food manufacturers and farmers," he said. "Yet despite this, the fiercely competitive grocery market in the UK has helped to keep British food among the most affordable of all the large European economies.
"Supermarkets have always run on very slim margins, especially when compared with other parts of the food supply chain, but profits have fallen significantly in the last year. Even so, retailers continue to invest heavily in lower prices for the future, expanding their affordable food ranges, locking the price of many essentials, and raising pay for staff.
"As commodity prices drop, many of the costs keeping inflation high are now arising from the muddle of new regulation coming from government. Rather than recreating 1970s-style price controls, the government should focus on cutting red tape so that resources can be directed to keeping prices as low as possible."
BRC analysis suggests a basket of basic grocery prices in the UK is up to 29% cheaper than the same basket in other large European economies – notably France, which introduced such price controls.
An FDF spokeswoman said: "Manufacturers continue to do what they can to limit price rises to consumers, which are always a last resort. However, their costs have gone up so much – for ingredients, energy, labour, packaging, logistics and so on – that it simply is not possible not to pass some price rises on.
"What's making the situation worse is expensive and inefficient recycling regulation, friction at the UK's borders and persistent labour shortages, where we would welcome constructive engagement by government if they are serious about keeping particularly the lowest-priced foods affordable for everyone."
Profit margins
Industry sources also pointed out that the moves came just weeks after the government encouraged supermarkets to invest more in British farming and said retailers had already seen falling profit margins in recent financial announcements.
Asda chairman Stuart Rose today warned the government against what he called a "clumsy" attempt to "interfere with the market".
"The markets will control themselves," he said. "Supermarkets do a very good job and the government should let shopkeepers be shopkeepers."
A government spokesman said: "The government is not considering imposing price caps.
"We know the pressure households are under with rising costs and while inflation is coming down, food prices remain stubbornly high. That's why the prime minister and the Chancellor have been meeting with the food sector to see what more can be done.
"We continue to support households through our £94bn package, worth £3,300 on average per household this year and last.